PDP Delegate Donates N13m To Orphans After National Convention (Photo)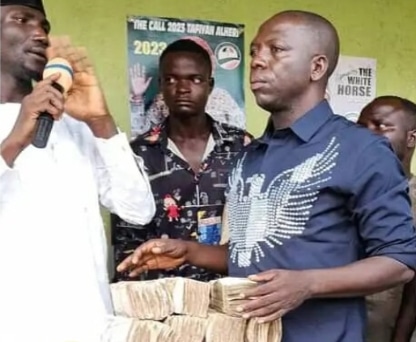 Tanko Rossi Sabo, a Kaduna politician has donated a large sum to children from disadvantaged background from a large stash of cash he received from presidential aspirants at the recently-concluded national convention of the opposition Peoples Democratic Party.
Tanko who hails from Sanga Local Government Area, said to the Peoples Gazette that he was donating the money to his people because he felt they needed it more.
Sabo, who was amongst the nearly 800 delegates from all over the country disclosed that aspirants were generous with their cash giveaways, adding that he was able to return to his constituency with so much money because he was disciplined and austere with his spending during the convention.
He recounted how aspirants relentlessly courted him, with some offering him hotel accommodation at excessive rates.
"I donated about N13 million to fund education for about 150 orphans, cover hospital bills for some elderly people and other donations. I am happy to help my people from the fruit of what I gathered at the convention in Abuja."
"Immediately I got to Abuja some of the aspirants started calling me and some of them gave me N400,000 or N500,000 to go and lodge in any hotel of my choice. But I slept in my car instead of looking for a luxurious place to sleep."
"I prefer to eat noodles and pepper soup than to dine at the Hilton for more than N20,000 per plate," Sabo said, adding that his supporters have lauded his prudent nature.
Speaking about been called in for questioning by the Economic and Financial Crimes Commission for displaying cash received from delegates, Sabo said; "I am not afraid of the EFCC because I spent the money I collected on my people. Will EFCC tell me I didn't do well by paying school fees for orphans and hospital bills for elderly people who have no means of livelihood?"
See photo below;
Naija News understands that the delegate made the cash donations after the presidential primaries of the Peoples Democratic Party, PDP, where it was alleged delegates received thousands of dollars in exchange for their votes.
Former Vice President, Atiku Abubakar and Rivers state governor, Nyesom Wike were accused of being the proponent of a money-influenced primary election.