Nigerians React As Atiku Wins PDP Presidential Primary Election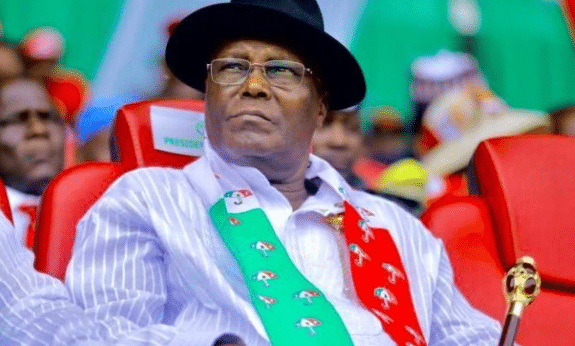 Naija News reports that the presidential primary election of the nation's main opposition party ended on Saturday night in favour of Atiku.
The Adamawa State-born politician emerged the winner of the polls after polling the highest votes.
The former Vice President defeated all other candidates with a wide margin to emerge the winner of Saturday's primary election.
Atiku who polled a total of 371 votes ahead of Rivers State Governor Nyesom Wike, will now be the official candidate of the PDP for the 2023 presidential election in Nigeria.
Nigerians on social media have, however, reacted to Atiku's victory as they expressed their different views.
One Yinkuzeh [@Yinkuzeh71] wrote: "PDP produced Atiku. Delegates can give him the ticket. But will his own kinsmen who are currently suffering under a fulani leadership elect another fulani man as president? He might end up a miscalculation on the part of Pdp.
On his part, PhilCollins_LFC [@PhilColins_O] said: "The North will almost always outsmart Southern Nigeria on election matters. Imagine Tambuwal waiting until the last minute to step aside for Atiku. Wike was busy attacking Peter Obi. APC is likely to go the same way except they learn from this. Meanwhile, #PeterObi to the rescue."
A netizen, Amalinze the Cat [@DominicNonso96] accused Wike of hating on everybody. He said: [Wike hates everybody. And feels he can't be touched. After 2023 handover, em go see something.
"Atiku would definitely pick a South Southern person Sha."
Congratulating Atiku, one ZAKARI ALFA [@zakarialfa2024] said: "God Almighty Allah has done it for Nigeria and Nigerian as Atiku is officially declared the candidate of PDP for the next presidential election. Congratulations to all of us Nigerian."