Reactions Trail Peter Obi's Resignation From PDP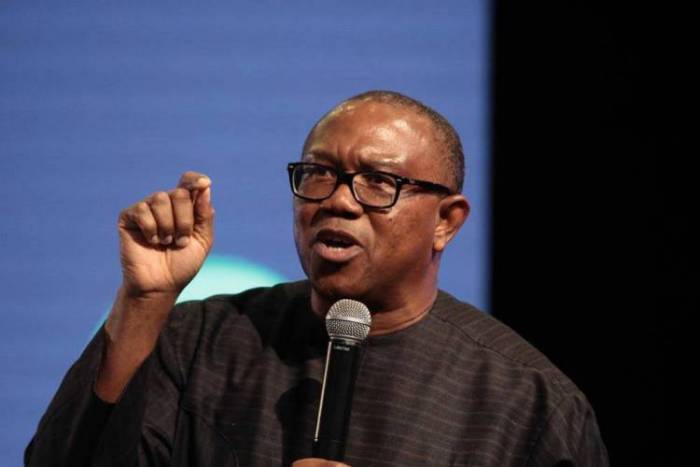 Reactions have trailed the membership resignation of the former Governor of Anambra State, Peter Obi, from the Peoples Democratic Party (PDP).
Naija News earlier reported that the presidential hopeful on Wednesday submitted his resignation letter at the PDP National Secretariat.
In the letter, the former banker also announced his withdrawal from the party's presidential primaries scheduled to hold in Abuja on Saturday, May 28.
Following his resignation from the PDP, some Nigerians took to social media to slam the PDP for allowing Obi to leave the party days before its presidential primary.
The netizens stated that the chances of the opposition party winning the 2023 elections just dwindled following the former governors' resignation.
See some of the reactions below.
Peter Obi is PDP's best shot at a Presidential seat in 2023. Now that he's leaving the party, I don't know for them again.

— Adewale Adetona (@iSlimfit) May 25, 2022
Peter Obi's exit from PDP is a sad development; this NWC obviously can't handle a fair Presidential primary elections.
An aspirant leaving the party just few days to the election? Terrible signs and optics.
Sad day for PDP, maybe the party is not ready after all.

— Somto Onuchukwu (@chosensomto) May 25, 2022
Peter Obi leaving PDP at a time when it desperately needs credible & popular candidates to rally public sentiments to kick out APC is a tragedy. It may be unpopular opinion but APC may win in 2023, except if by a stroke of luck, a new alliance emerges with enough heavyweights.

— Ayò-Bánkólé Akíntújoyè (@AyoBankole) May 25, 2022
Best decision from Peter Obi. pic.twitter.com/EBKXofbyeb

— 🎙OLUOMO OF DERBY 🇳🇬 🇬🇧 (@Oluomoofderby) May 25, 2022
BREAKING NEWS

HE Peter Obi has officially left the PDP today.

The PDP as currently constituted is not willing to give Nigerians good governance

Good luck to them!

We will announce our new party in hours!

— J a c k 🇳🇬 (@Jack_ng01) May 25, 2022
The Exit of Peter Obi has nailed the final coffin on the Atiku Presidency Project, Mr. Dubai should stop spending money. There is no running mate from the South East that will deliver anymore. Quite sad!

— Tosin #ENDSARS (@Dontee___) May 25, 2022
Truth is PDP isn't worthy to be called an opposition party, its about money over integrity for them, them Atiku never saw the Peter Obi movement coming, they already have a plan in place to make him the vice as usual, he has made the right decision by pulling out of the primaries

— OMOTAYO Of Lagos 💥 (@Tee_Classiquem1) May 25, 2022
PDP members should start preparing their coffin. Now that Peter Obi has left PDP, they are destined to die as a party.

Peter Obi has been the one keeping the part alive. Since they refused to give us Peter Obi, we will resurrect Abacha and vote for him as punishment

— Kelvin Odanz (@MrOdanz) May 25, 2022
Thank you Peter Obi for always being two steps ahead. 💛 pic.twitter.com/Cbm5Z8hnX5

— Ajị bussu onye mpiawa azu🏳️‍🌈 (@AfamDeluxo) May 25, 2022