Marketers Lament As Cooking Gas Patronage Drops Amid Rising Prices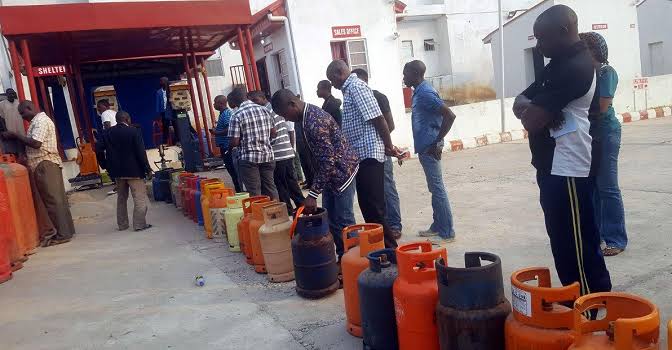 Nigerians have systematically and on condition found themselves alternatives to the usage of Liquefied Natural Gas (LPG) popularly known as cooking gas.
Naija News reports that marketers are lamenting poor patronage of gas for cooking across the states, identifying the cause as outrageous purchase costs.
It was revealed that the current national annual consumption of cooking gas is between 1.3mn and 1.5mn metric tons, showing a wide margin from the Federal Government's annual target of 5mn metric tons.
President of, the Nigerian Gas Association, Ed Ubong, while speaking at a downstream event in Lagos on Tuesday, said there was a need for Nigeria to deepen domestic production of gas to bring down prices and increase local consumption, adding that affordability was being threatened.
Situation reports from the market on Tuesday showed that consumers had lately either reduced consumption or ditched the commodity for cheaper alternatives such as coal and firewood.
Interviewed by the PUNCH, Executive Secretary, Nigerian Association of Liquefied Petroleum Gas Marketers, NALPGAM, Bassey Essien, observed that the drop in consumption rate was due to increasing prices.
Essien highlighted that price of 20 metric tons of cooking gas as of Tuesday shot up from N12mn to N12.8mn.
He said: "Prices have been volatile for a while, and it's because the purchasing power has dropped. Gas is no longer affordable, and buyers are either regulating the use or finding alternatives. As of today, a 20-metric-ton of gas sells for about N12.8mn. Price has hovered around 10mn-12mn before now. Just imagine what we bought last for N12mn rising by N800, 000 for one truck."
While speaking during one of the technical sessions on the topic, 'Gas as a catalyst for sustainable economic development- The role of Nigerian Content', at 'The Nigerian Content Midstream and Downstream Oil and Gas Summit 2022' organised by the Nigerian Content and Development Monitoring Board, NCDMB in Lagos on Tuesday, gas stakeholders unanimously agreed that national gas consumption was currently very low.
They bitterly lamented the poor purchasing power of Nigerians. They, however, did not state what current actual consumption or demand was when compared to figures already quoted by Ubong.
Meanwhile, the MD/CEO, TECNO Gas Ltd, Nkechi Obi, during the panel session, submitted that gas pricing was one of the reasons for low demand across the country.
"Currently, gas demand is getting very, very low across the country, and this is due to high gas pricing", she said, adding that lack of government policy to drive demand also formed part of the reason demand was abysmally low.
She urged the Federal Government to intervene in terms of formulation of policy and funding to drive up demand, adding that gas was a developmental commodity.
Findings showed that between 55-60 per cent of gas utilized in Nigeria is currently being imported by independent marketers, while the Nigerian Liquefied Natural Gas Limited (NLNG) supplies just 40 per cent.
Historically, Nigeria is rated as a gas country with approximately 207 trillion cubic feet (Tcf) of proven gas reserves, ranking 9th in the world and accounting for about 3 per cent of the fastest-growing natural gas reserves of6,923 Tcf. Nigeria has proven reserves equivalent second-largest annual consumption, Naija News understands.
Natural gas is estimated as the fastest-growing fossil fuel in the world and is projected to overtake coal by 2030, as the second-largest source of energy.
The Federal Government said in April, that the value of Nigeria's proven gas reserves of about 206.53 trillion cubic feet was over $803.4tn.
Ubong has, however, noted that "When gas is imported, then, international pricing will also apply because you will have to add freight charges and import duty to the price. All these added together will definitely push prices up. You will also need to factor in the issue of FOREX. Getting Forex to import products is also very scarce."