Jamil Abubakar Gets Award From Ooni of Ife Few Days After Controversial Tweet On Killing Of Deborah Samuel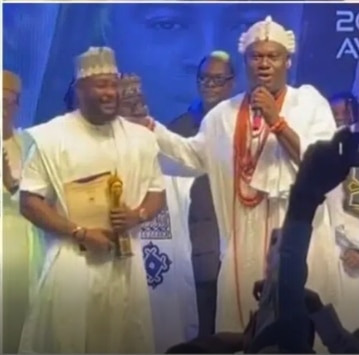 The Ooni of Ife, Oba Adeyeye Enitan Ogunwusi has honored the son in-law to Aliko Dangote, Jamil Abubakar, for being an impactful influence on society despite Jamil's recent stand on extra judicial killings.
Naija News recalls that the son of a former Inspector-General of Police, Mohammed Dikko Abubakar, Jamil openly supported the horrific murder of late Deborah Samuel, a student of Shehu Shagari College of Education.
Late Deborah was accused of alleged blasphemy against the Prophet Mohammed in their school's group chat.
Following her death, Jamil defended her killing, adding that the Holy Quran pronounced death on anyone who blasphemes.
Taking to Twitter, he wrote; "In Islam, we respect the Injil, Taura, Zabur, we were never taught to disrespect any of the books, or any of the prophets from Adam to Muhammad SAW and the Quran. The punishment for blasphemy is death In most religions including Christianity. Respect people's religion, it's simple."
Following the attendant backlash his post received, Jamil made a u-turn and denied advocating for one's life to be taken or for people taking matters into their own hands.
"Religion is a temper flaring zone. I know emotions are running wild. A lot of people read my tweets without understanding me, which is normal. I have never advocated for one's life to be taken or for people to take matters into their own hands.
"The law exists for such which I pointed out. Sadly, we are here. I sincerely meant no harm. Everything was taken out of context. I pray that peace, which Islam greatly preaches will prevail in our lands".
Despite his recent statement, Jamil was recognized among 100 outstanding young persons continuously putting Nigeria on the global map and inspiring millions of young Nigerians.
Sharing the good news on social media, he said, "The Ooni of Ife himself, the Arole Oduduwa. His Imperial Majesty, Oba Adeyeye Babatunde Enitan Ogunwusi, Ojaja 11 thank you for your worthy recognition. This award is specially dedicated to my team.
"Thank you all for your zeal and commitment to serving humanity and mankind. A lot of people don't know the sacrifices we make but God (Allah) in heaven will pay us all. God gives, Man delivers.
"Thank U @RoyalAfricanYLF. Congratulations to all the winners of today. This is a challenge to make ourselves better people and serve humanity the best we can".