2023: What Emefiele Said After Meeting Buhari In Aso Rock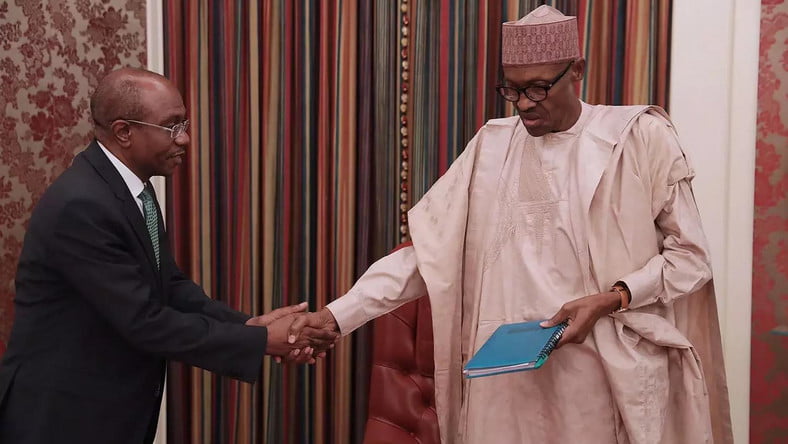 The Governor of the Central Bank of Nigeria, Godwin Emefiele, has told Nigerians to expect news on his presidential ambition soon.
Emefiele also urged the citizens to watch out if he would be affected by the presidential directive to political appointees seeking elective positions in the 2023 general elections to vacate their offices before Monday.
The apex bank chief made this known in a chat with State House correspondents after a meeting with President Muhammadu Buhari at the State House on Thursday.
When asked by reporters if he would comply with the president's directive to resign, he said: "There is no news now, but there will be news. You heard me, I said there is no news but there will be news."
The CBN Governor also said he was not worried about the speculations surrounding his purported presidential ambition, adding that he is loving the media attention.
Emefiele said: "Let them have heart attacks; it's good to have heart attacks; I am having a lot of fun."
Recall that three support groups recently bought the presidential nomination and expression of interest forms of the All Progressives Congress (APC) for Emefiele.
Following the calls for his resignation, the CBN Governor had in a statement last Saturday claimed that he has not decided on the presidential race.
Emefiele appreciated the farmers and patriots for going as far as raising funds and offering him Presidential Nomination Forms.
The apex bank boss, however, said he would purchase the form himself if he decides to contest.
In a twist of events, Emefiele approached the Federal High Court in Abuja, to ask for a ruling allowing him to contest the 2023 presidency and retain his job at the CBN.
As of the time of filing this report, the CBN Governor is yet to officially declare his interest in joining the presidential race in 2023.