I Have Plans To Reveal Apostle Suleman's 'True Image' – Stephanie Otobo (Video)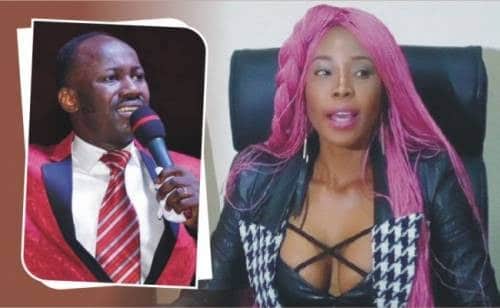 Canadian singer, Stephanie Otobo has revealed why she is all out against the senior pastor of Omega fire ministries, Apostle Suleman.
Otobo in an interview with Saharareporters on Tuesday said the aim of her calling the cleric out is for Nigerians to know the truth.
She took the opportunity to charge Nigerians to know God themselves and not be deceived by fake clerics.
According to Otobo, she has plans to clear her image and reveals Apostle Suleman's 'true identity
Otobo disclosed that the cleric tried killing her, adding that one Dr Marley tried to inject her to death.
She said she was screening loud when they tried to inject her, but a nurse on duty advised that they inject her another time as people have heard her screening.
Otobo said as soon as they left her in a room where they had locked her she went live on Instagram and people started calling the doctor.
She claimed that they made her delete the video, threatening to seize her phone, so she has to adhere to their demand.
Otobo further stated that Apostle Suleman still comes after her after then.
She noted that when she lied that politicians sent her to damage the image of the cleric that it was Frank Shahidu that works for Apostle Suleman that told her to say so.
Otobo said she was intimidated by guns, and soldiers while in the church so she had to lie against herself.
Watch the video here