Biafra: Umahi Reveals What Buhari Told Him About Nnamdi Kanu, Insists Igbos Are Not Leaving Nigeria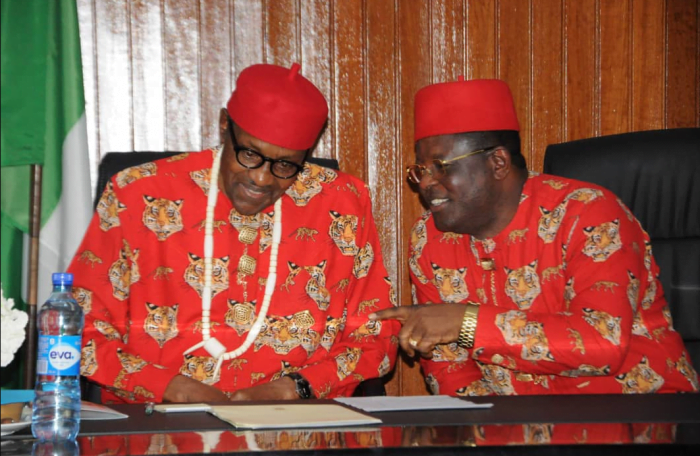 Governor David Umahi of Ebonyi State has revealed details of what he discussed with President Muhammadu Buhari about the detained leader of the Indigenous People of Biafra (IPOB), Nnamdi Kanu.
Naija News reports that South-East leaders have called on the president to facilitate the release of Nnamdi Kanu who has been in the detention of the Department of State Service (DSS) since last year.
In a recent visit to Ebonyi State, Buhari vowed not to intervene in a case that his already in court, adding that the fate of the IPOB leader depends on the out come of the treason trial before Justice Binta Nyako of the Federal High Court, Abuja.
Speaking to State House correspondents after meeting with Buhari on Tuesday, Umahi stated that a political solution could resolve the matter and bring peace to the South-East region.
He said: "The President repeatedly said the matter is in court, we must appreciate his pedigree and integrity.
"He cannot just as a President say he is going to destroy the matter in court.
"He said, 'Your cultural leadership should be able to initiate that with Nnamdi Kanu's lawyer'.
"This is over six months and we have been begging the President of Ohaneze to take up that responsibility."
Umahi also stated that he has met with the Attorney-General of the Federation and other security agencies attached to the case, saying they are all okay with settling out of court.
Speaking further, the governor said the people of the South-East are happy to remain in Nigeria.
According to him, Igbos were not in support of any form of agitation or plans to secede.
"I have always said that we are not totally in support of agitation to secede. We want to belong to the Nigerian nation.
"As the Chairman of the Southeast Governors Forum, I have publicly said it, I have defended it.
"I don't care about the attacks and those who have taken to the politics of that matter in our place," Umahi said.
---
---
© 2023 Naija News, a division of Polance Media Inc.