Why I Called Out Apostle Suleman – Stephanie Otobo (Video)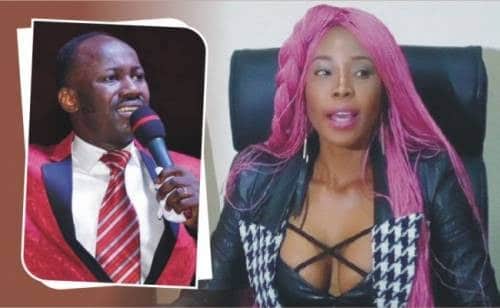 Canadian singer, Stephanie Otobo who has been in the news for calling out the senior pastor of Omega Fire Ministries, Apostle Johnson Suleman has revealed why she condemned the cleric at this time.
Naija News recalls that Otobo shared some sensitive pictures on her Twitter account on Monday claiming to be taken during their intimate moments.
Otobo in an interview SaharaReporters on Tuesday said that Apostle Suleman always sent someone to the court to make sure that she goes broke and she eventually went broke.
She noted that she had no financial resources to tackle the Suleman in court as nobody was ready to help her with the case.
The singer also accused the cleric of sending officials of Nigerian Immigration against her.
She claimed that Apostle Suleman approached her several times calling on her to settle their differences outside the court.
Otobo noted that she dropped the court case after Apostle Suleman allegedly transferred the case from a female judge to another Judge.
She disclosed that the cleric sent police to arrest her and when they came they took her phone so that she would not have any proof against him.
According to Otobo, she is coming back now as reinforcement against the senior pastor of Omega Fire Ministries.
She further stated that she would tell the truth and she promises not to back down this time around.
Otobo accused the cleric of using his money and connection against her.
Watch the interview here