'The Same Ishiagu They Refused Nnamdi Kanu To Wear To Court' – Nigerians Drag Buhari For Rocking Colourful Igbo Attire To Ebonyi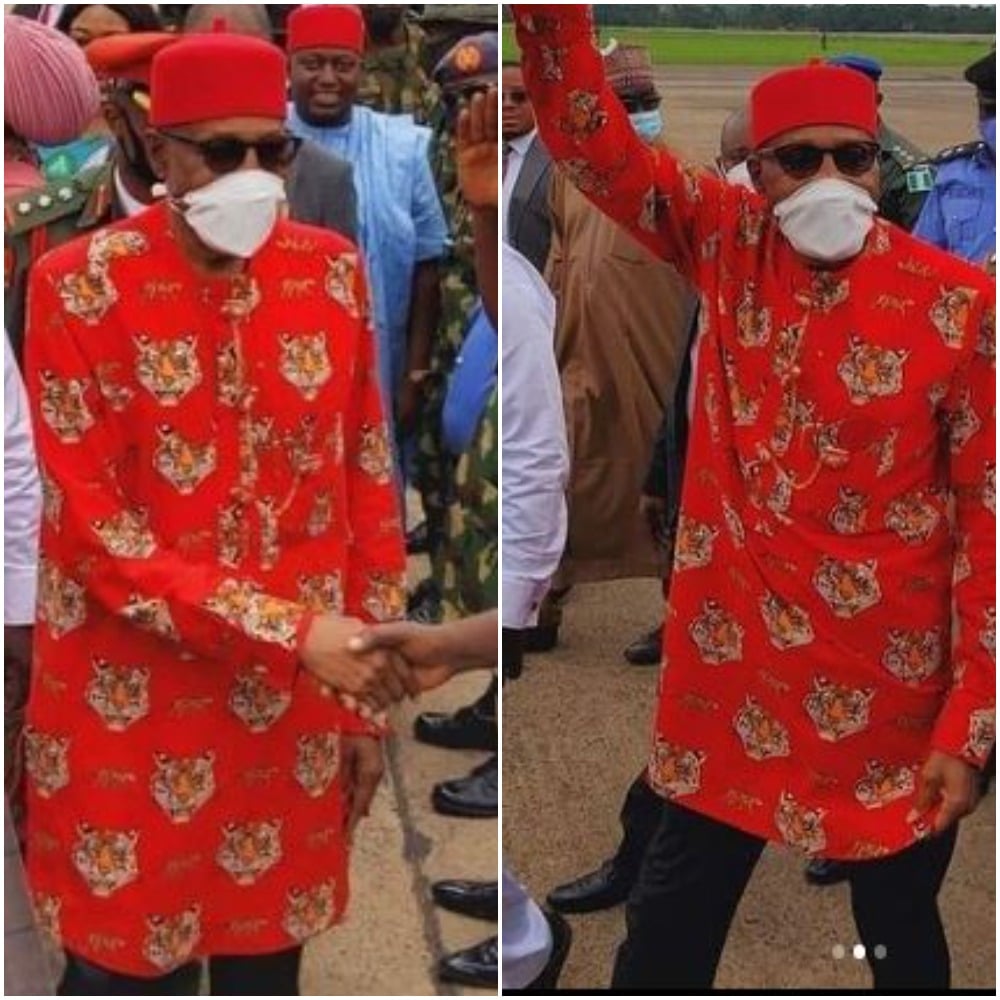 President Buhari has caused a stir after landing Ebonyi state, donning a colorful traditional Igbo attire, Ishiagu. 
Naija News reports that President Buhari who was received with cheer by the State Governor, David Umahi and other top government officials on Thursday, May 5 immediately proceeded with the commissioning of the King David University of Medical Sciences Ụbụrụ in Ohaozara LGA.
Reacting to the outfit, Nigerians slammed the president for refusing the embattled leader of the proscribed Indigenous People of Biafra (IPOB), Nnamdi Kanu to wear the same attire to court.
They added that it was insulting for an Igbo man to be deprived his traditional wears, whereas other non-igbos proudly don the attire.
See photos and reactions below;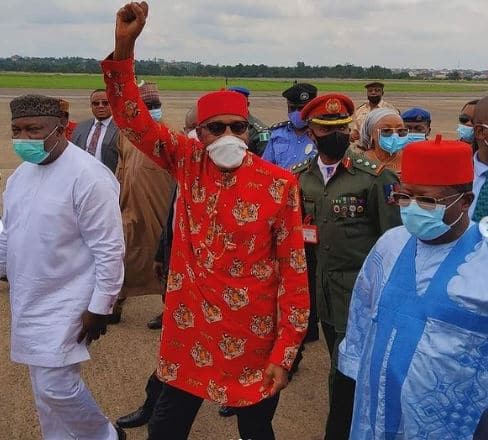 One iam_doncasey wrote; "Same Isiagu attire when them know want Nnamdi Kanu to wear to court lol. This country is as funny asf"
One nwanyibuezee wrote; ''It is insulting to see this man on Isiagu. Every tom, dick and Harry now wears Isiagu. Ndi Igbo ntoor."
one ekene_chukwu110 wrote; "Wearing a cloth you h.a.t.e too much 😢 his body must be itching him"
One travis__gram__melanin wrote; ''At the end of this APCs adminiSTRAYtion ehn , we that are alive ehn , truly deserve a GRAMMY AWARD n world HEAVY-WEIGHT champion BELT 🏅 stamped and embedded in the GUINNESS BOOK of RECORDS for best in the SURVIVAL series tbvh"
One oruhnc wrote; ''Buhari, dressed in Igbo traditional attire. Meanwhile, Governor Umahi decided to dress like an Hausa man."
Recall, the lead counsel to the IPOB leader, Mike Ozekhome (SAN), complained that the Department of State Services (DSS) is still treating his client with disdain by refusing him the attire of his choice.