Why Buhari Has Refused To Change Nigeria's Constitution – Adebanjo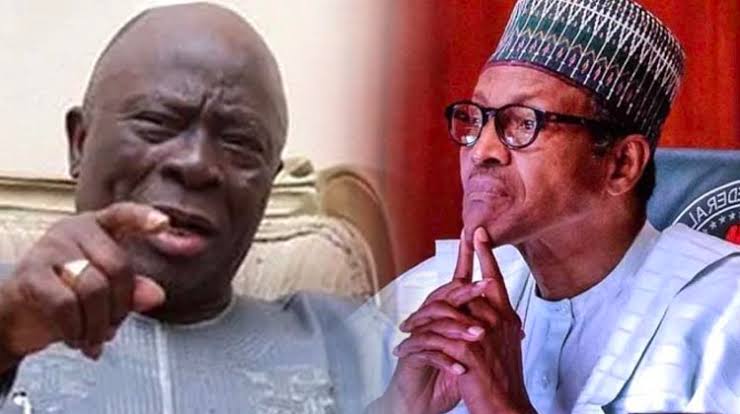 The leader of a Yoruba socio-cultural group, Afenifere, Chief Ayo Adebanjo, has accused President Muhammadu Buhari of failure in many aspects of governance.
Adebanjo said this while lamenting the state of the nation when he appeared on a Sunday Channels TV programme titled 'the Government of National Unity'.
According to him, Nigeria won't progress until the country's constitution is changed.
Adebanjo said Nigeria is at the brim of breaking up if President Buhari does not change his style of governance.
In his submission, the Yoruba leader said the incumbent government is clueless on how to address issues confronting the country. He further accused President Buhari of failing to take advice from past leaders in the country.
Adebanjo reiterated his call for 'the Government of National Unity' on what he described as a state of emergency in the country which he said warranted drastic measures not necessarily contained in the constitution.
He said: "Circumstances of the country and the nature of the government of Buhari has warranted my calling for the government for national unity. There is a state of emergency in the country that warrants drastic measures that are not necessarily contained in the constitution.
"It is because of the deficiency and incompetence and unwillingness of the government to take advice from the leaders of the country who know better that we are calling for a government of national unity that all shades of opinion must be represented in that government."
Adebanjo lamented the security position of the country. Noting that insecurity has worsened to the extent that criminals had become emboldened, asking the government to swap their members in detention for kidnap victims.
He said, "This government has proved that they have no clue to our problem and every time we talk about change the government, the constitution, there is no security, the economy is bad, Buhari government appears dumb.
"He just does not understand issues and we have to understand problems before we get solutions; and all wise men and learned and experienced people in the country, who have been in the system before he came in gave him advice, he won't listen. That is why we are calling for government of national unity.
"Until you change this constitution the country will not get anywhere. And there is evidence that Buhari is not willing to because in my view he has a private agenda, but if he continues like this, the country will break.
"So those of us who are anxious about keeping the country together in peace are anxious that we get nationalists to come together to form a government of national unity to solve the immediate problem of this country."