Biafra: Nnamdi Kanu Heads To Appeal Court, Challenges Amended Terrorism Charges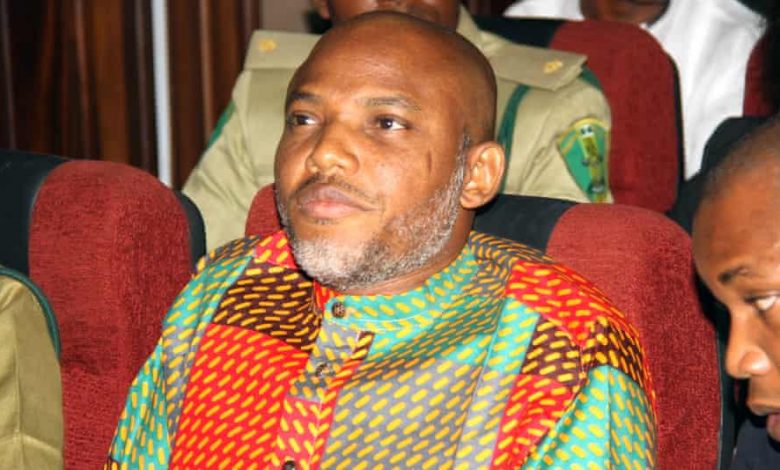 Biafra Republic agitator, Nnamdi Kanu has challenged the amended seven terrorism charges granted by Justice Binta Nyako of a Federal High Court in Abuja.
The leader of the Indigenous People of Biafra (IPOB) made this known in a suit filed at the Abuja Division of the Court of Appeal filed by his lawyers, Mike Ozekhome (SAN) and Ifeanyi Ejiofor.
In the suit, Kanu asked the appeal court to strike out the amended seven charges of terrorism instituted against him by the Federal Government, adding that the charge against him was legally defective.
Recall that Justice Nyako had April 8, 2022, struck out eight out of the 15-count treasonable felony charge filed against the IPOB leader by the Muhammadu Buhari-led government.
Not satisfied with the ruling, the IPOB leader said the trial judge erred in law by failing to "consider, make finding of facts and accordingly pronounce on issue one raised for the trial court's determination, relating to the extraordinary rendition of the appellant, and thereby occasioned a miscarriage of justice."
Among the reliefs being sought-after in the appellate court included, "an order of this Honourable court allowing the appeal and setting aside in its entirety, the ruling/final decision of the learned trial court, retaining counts 1, 2, 3, 4, 5, 8 and 15 of the amended charge.
"An order of this Honourable court upon granting relief a above, dismissing the remaining counts 1, 2, 3, 4, 5, 8 and 15 and, accordingly discharging the appellant on those counts.
"An order of this Honourable court terminating the entire charge and discharging the appellant.
"And for such further order or orders as the Honourable court may deem fit to make in the circumstances of this appeal."