Pregnant Woman Kidnapped On Abuja-Kaduna Train Delivers In Terrorists' Den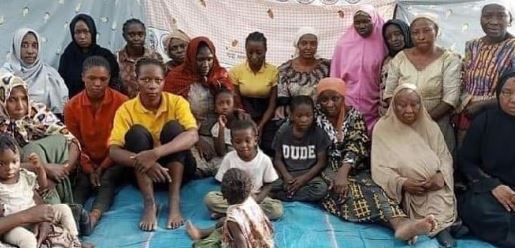 A pregnant woman, abducted during a recent attack on a Kaduna-bound train by terrorists, has delivered a baby in captivity at the weekend.
Naija News understands that she is one of the two pregnant women who were kidnapped by the terrorists on March 28, 2022, and whisked away to an unknown location.
According to Arise News, a family source said the lady gave birth in the terrorists' captivity with the criminals bringing doctors into the forest to deliver the baby.
The source said the terrorists were able to arrange for medical equipment and supplies to assist the doctors in delivering the newborn, adding that the woman was eight months pregnant when she was kidnapped.
However, the source stated that the state of health of both the mother and the baby is unknown as of the time of filing this report.
"She gave birth with the aid of doctors brought in by the terrorists. We can also report that the terrorists are demanding the release of their top commanders in exchange for the abducted train passengers. 
"The terrorists are Kanuri speaking, suggesting that were from the Northeast region and backed by the deadly Islamic state group- ISWAP.
"What kind of country are we living in? There doesn't seem to be anything in the news. Is the government even doing anything about it or terrorism is now part of our norms and culture?
"Sonny Okosun's which way Nigeria was 1984. Almost 40 years later, we are still asking the same question," the family source said.
Meanwhile, terrorists who carried out the deadly attack on an Abuja-Kaduna train have released another picture showing some of their victims.