VIDEO: Don't Waste Your Votes, You Can't Win – Wike 'Roasts Peter Obi' In Anambra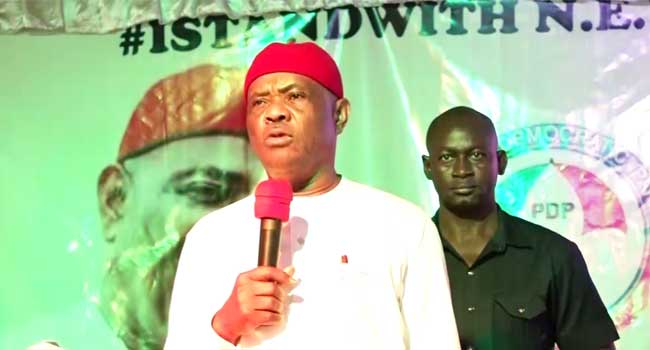 The Governor of Rivers State and Presidential aspirant of the Peoples Democratic Party (PDP), Nyesom Wike, has urged Anambra PDP delegates not to waste their votes on some that cannot win the primaries.
Naija News reports that the governor stated this when a paid a visit to the state delegates as part of his consultations ahead of the opposition party's primaries on Saturday.
In what many has interpreted as a dig on former Anambra governor Peter Obi, Wike said he is the only one with the capacity to wrestle power from the All Progressives Congress (APC) in 2023.
"I didn't come here to teach you about economy of Nigeria, that's theory and not for people like you here, it doesn't work that way"
"…you are far from what we are talking about," he said.
Wike also warned that if the party cannot defeat the ruling APC at the polls, it might go into extinction after the 2023 general election.
"We have been in opposition since 2015. If we don't win this election in 2023, you can as well forget PDP. Everything must be done to win this election," he said.
"No sentiment should be brought in. Of all the aspirants, who can withstand APC in this election? Whether the person is from Anambra, Sokoto, or Imo, look at all of us, who can withstand APC in this election? It is me!"
The Rivers governor denied reports that he is running so as to emerge as running mate to another candidate.
He added, "When you see somebody who wants to run for election, you will know. I am not running for election to be vice president to be anybody.
"I didn't collect any form that if I don't win, I will go to the Senate. I am not going anywhere. The only thing is that I will run and I will win is the presidency of the country."
Watch Videos below:
Wike asking Anambra PDP delegates if they are not aware Peter Obi won't win primaries.. pic.twitter.com/Z1Xm0Tti3N

— Onitsha Metro (@ConnectOnitsha) April 24, 2022
"I didn't come here to teach you about economy of Nigeria, that's theory & not for people like you here, it doesn't work that way"
"..you are far from what we are talking about"

– Wike to Anambra PDP delegates.

Why shading Peter Obi 🤔 pic.twitter.com/fuWQPj6LRZ

— OTUNBA 🇨🇦 (@ManLikeIcey) April 24, 2022