Woman Fighting For Life After Ex-boyfriend Macheted Her For Introducing Another Man As Fiancé To Family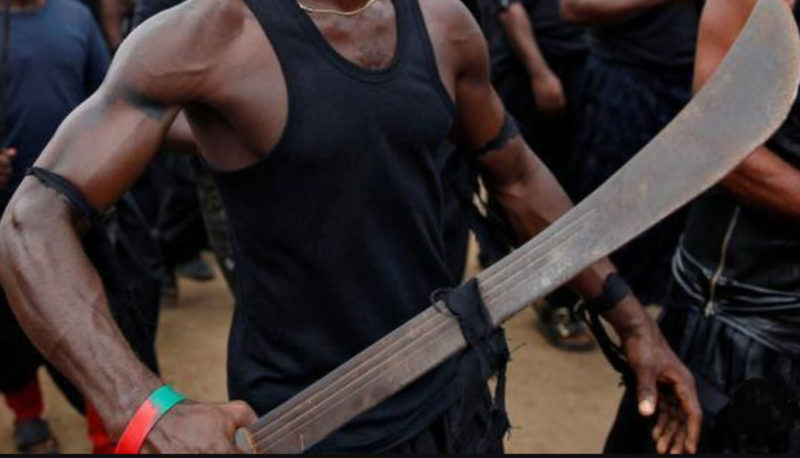 A 20-year-old lady identified as, Onyekachi Chinomso, has been attacked by her ex-Lover, Ifeanyi Chigozie for introducing another man to her family as her intending husband in Rumuodara area of Port Harcourt, Rivers State.
According to Sahara Reporters, Chinomso and the suspect who is currently at large dated for several years and had a child together before they broke up.
However, Chigozie was said to have quietly planned a revenge against his ex-girlfriend for months after they broke up.
On March 20, 2022, Chigozie visited his ex's family home in Port Harcourt after learning that she introduced another man as her fiance to her family.
The suspect had sneaked into the victim's room without the knowledge of anyone and inflicted several machete cuts to different parts of her body.
More than one month since that gruesome attack on her, Chinomso's chances of recovery remain slim.
The victim's brother, Chinasa told the publication that the suspect alongside others had planned to hurt his sister for a long time.
The matter was reported at Okporo Police State in the state capital but no arrest has been made yet.
He said, "My sister disclosed that it had been long she saw the guy, adding that she had nothing to do with him again.
"But she never knew that the guy had been tracing her until the incident happened and people started saying that the guy had been coming around to ask them about her and the guy she wants to marry.
"He pretended and lied to people that he gave my sister clothes to sew for him and that he had come to collect them.
"On the day the incident happened, she stepped out to buy groundnut to drink garri but when she came back and opened her door and went inside the room, Chigozie rained several machete cuts all over her body. Before she managed to call for help, the guy had escaped from the room.
"She lost a finger and sustained deep cuts all over her body. She has been in the hospital since that period while the attacker is nowhere to be found."
He also revealed that they have had issues handling the medical bill of his sister and this had stopped the doctors from performing certain surgeries that would speed recovery.
He said, "Our family has spent over N600,000 on her treatment so far.
"She requires some urgent surgeries to help her stand a good chance of speedy recovery. We are still looking for the money for the surgeries.
"The guy who attacked her is from Akarkwo Amamba in the Uzuakoli area of Abia State. He has been on the run since the incident. We hope that he is arrested soon to face the consequences of his actions."
The state police spokesperson, Grace Irenge-Koko, said she had yet to be briefed, adding that she was awaiting a detailed report into the matter.