Nigerians React As APC Pegs Presidential Form At N100m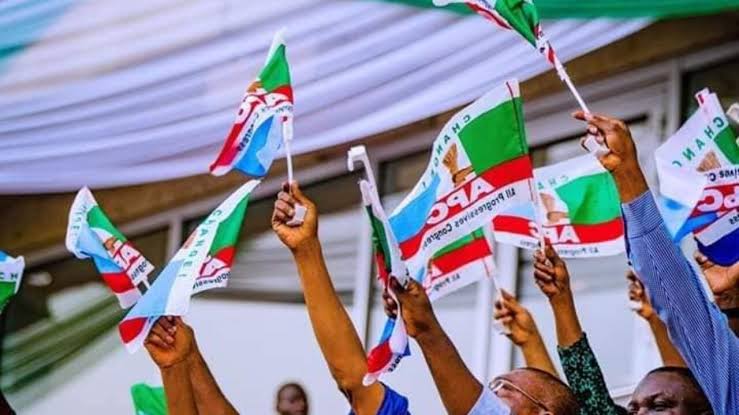 Several reactions have trailed the pegging of the All Progressives Congress' presidential nomination form at N100 million.
Naija News earlier reported that the National Publicity Secretary of the party, Felix Morka, revealed that the APC had pegged its presidential nomination and expression of interest forms at ₦100 million.
Morka made this known while addressing reporters after the 11th National Executive meeting of the party held at the Transcorp Hotel in Abuja on Wednesday.
The APC spokesman stated that the nomination form would go for ₦70 million while expression of interest forms would go for ₦30 million.
He added that the party's forms for governorship aspirants cost ₦50 million; Senate, ₦20 million; House of Representatives, ₦10 million and State Houses of Assembly, ₦2 million.
Following the development, some Nigerians took to social media to berate the ruling party for pegging its presidential nomination form at such an exorbitant fee.
According to the Twitter users, such an amount would breed corruption among the presidential aspirants and encourage embezzlement if such a presidential candidate finally emerged.
See some of the reactions below:
@SeniormanOA said: "So APC is charging Senate – N20M, Governorship – N50M, Presidential – N100M for their Nomination form.
"I'm sorry but almost everyone that'll purchase these forms will steal one way or the other."
@ENIBOY wrote: "8 years ago General Buhari said he could not afford the APC Presidential form which was pegged at N20 million. He said he took a bank loan to purchase the form. Today while he is the leader of the APC, the party has pegged its form at N100 million."
@Adedeji__O wrote: "#100m for APC's Presidential Ticket.
"More reason why these guys go towards any length to win elections. After winning, all they first care about is recouping their investments. Wow!"
@henryshield said: "Anyone who buys that APC Presidential Form for N100M is not coming to work for the masses. He or she is coming to STEAL!"
@deKunLe_Oyo tweeted: "Someone would buy party's nomination form for #100M & We expect him not to embezzle when He attains office? Naija's political rot is systemic."
@DAMIADENUGA wrote: "#100m to buy one form, tell me how the person buying this form won't take a loan to pay & when they win, they'll use government money to repay the personal loan they took to buy nomination form."
@Oluomoofderby wrote: "How many APC youths can afford to buy N100m Presidential form or even N50m Governorship form?"
@SodiqTade wrote: "Tinubu should be able to buy the APC Presidential form at 50m since he has been campaigning as a youth for some days now."
@BolanleCole wrote: "Presidential nomination and expression form for APC is N100,000,000 while PDP is N40,000,000!
Efcc suppose sit down for APC secretariat and arrest anyone will obtain the form…..Most especially PYO whose total money was not up to 100million before he became VP."