Igbo Group Threaten To Drag Tunde Bakare To Court, Gives Seven Days Ultimatum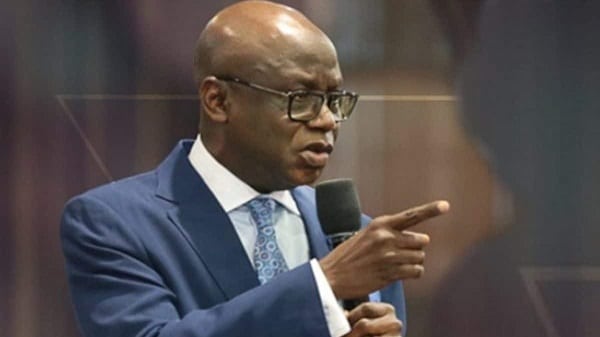 The Igbo Board of Deputies, which comprises of stakeholders of South-East extraction, have threatened to drag Pastor Tunde Bakare to court over his alleged hate speech and genocidal comments against the Igbo people of Nigeria.
The group made its decision known in a pre-litigation letter addressed to the cleric on Tuesday through their lawyer, Austin Okeke.
The group gave the clergy man seven days to recant his statement on the same pulpit.
According to the letter, the group said they will; "approach the appropriate forum, both local and international, for all available legal relief. These actions shall be at your account."
Also copied in the letter were United Nations Human Rights Commission; the International Criminal Court; the International Court of Justice, President of Nigeria, Chief Justice of Nigeria, Senate President, Nigeria, embassy of the United States of America, the European Union, and the African Union among others.
It reads, "We act for Igbo Board of Deputies, a Non-Profit Company "NPC" and its Trustees for the time being "our clients" under whose instructions we address this letter to you. We have waited reverently for Lent and Easter period to end before addressing this letter to you. It is our instruction not to join you in the desecration of a very sacred and holy Lenten season; it being the bedrock of the Christian faith all over the world. Your hate speech and your premeditated incitement designed for ethnic cleansing of the Igbo people in Nigeria were aired and viewed right at the heart of Lent. You are a pastor of a church indeed.
"We have waited without success for you to, on your own accord, recant your hate speech and/or withdraw the incitement of genocide against the Igbo people. It is very obvious that your speech on the day was well thought out, planned, and executed so as to achieve the purpose it was designed. These comments were made deliberately at a very fragile and tense period in the history of Nigeria, when insecurity and killings are rife.
"We are advised that on and about April 2022, you on the pulpit of Citadel Global Community Church in Lagos, Nigeria "your church" and before a multitude of congregants, worshippers, and viewers all over the world, made inciting comments against the Igbo people in the following manner: 'on the day the late Tafawa Balewa was killed the Igbo soldiers arrested him, removed his turban, poured wine on his head, and forced him to drink and then shot him. While he was being killed, he cursed the Igbo race; that they would never govern Nigeria.''