Buhari Govt Working Hard To Free Kidnapped Train Passengers – Presidency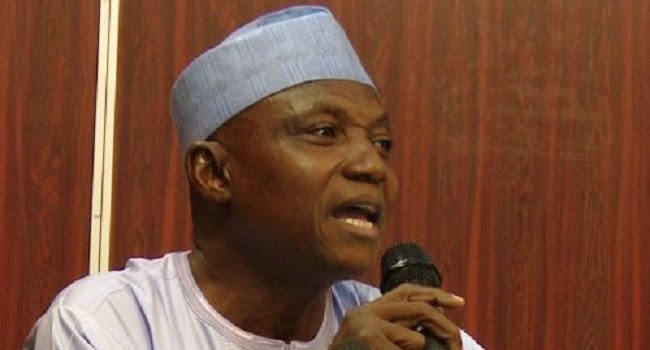 The Presidency has stated that the Federal Government is working hard to free over 100 passengers kidnapped from the Abuja -Kaduna train.
Presidential spokesman, Garba Shehu, was reacting to conditions given by family members of the victims to the federal government to resume train operations in the country.
Speaking at a media briefing last Friday, the families said the government should not be thinking of resuming train services until the abducted persons are rescued and reunited with their families.
They argued that safety measures also need to be put in place before services resume so as to prevent future attacks.
In an interview over the weekend, Shehu said that the Muhammadu Buhari government is doing its utmost best to rescue the kidnapped victims and that the result would soon be apparent.
The presidential spokesman appealed to the victims' families to be patient with the government and support its efforts to rescue their loved ones.
He said, "Relatives of those taken as hostages by the terrorists, speaking during a media briefing in Kaduna on Friday, had told Federal Government not to resume the Abuja-Kaduna train service until those being held had been set free from captivity.
"Government has already fixed the rail tracks. They've been tested and ready to resume train service. However, there is also concern about family members who are holding up this process and they insist that their family members must be brought home from the bandits before the service is restored.
"You can understand the emotion, and the government doesn't want to appear to be insensitive. But again, by stopping this rail service, you're also in a way exposing other families who have not been so affected by other dangers.
"There must be a meeting point and I'm sure that the security and intelligence community, with the police, will be able to work with the family members to reassure them that they will not be abandoned and that their family members will not be abandoned to their fate."
The presidential spokesman disclosed that the rescue operations may take time because of the complexity of the situation.
"If the idea is to just bomb out everyone – the bandits, the terrorists and their captives, this can be done in a day. But this is a rescue operation and rescue will only be successful when you bring people out alive and well.
"If they are brought back in body bags, what's the purpose? The family members should please bear with the administration as it works to ensure that the people who are trained to deal with this situation, give the direction on what to do," he said.