Adamu Is A Grandfather To The National Assembly – Senate President Lawan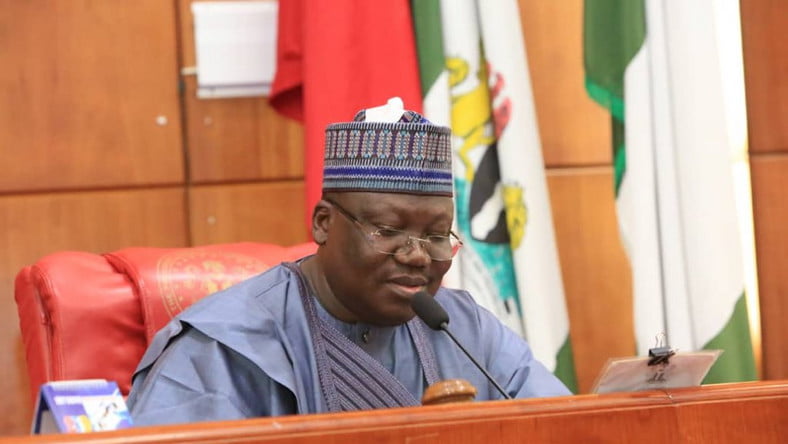 Senate President Ahmad Lawan has described the new national chairman of the All Progressives Congress (APC) as a grandfather of the National Assembly.
Lawan in his submission on Wednesday said Senator Adamu is more than a father to the Senate for his many roles and contributions to the development of the democratic institution and Nigeria as a whole.
Naija News reports Lawan made the submission during the valedictory session for Adamu and two other colleagues; Senator Abubakar Kyari (Borno North); and Senator Hassan Mohammed (Zamfara North).
As earlier reported by Naija News, Adamu and Kyari turned in their resignations as legislators on Tuesday to take up the new responsibilities of National Chairman and Deputy National Chairman (North) of the APC respectively.
Commending the massive contributions of Senator Adamu, Lawan said though he would be missed in the Senate Chambers, they would still be in constant touch through other political activities.
He wished him well in his new role as the APC National Chairman.
He said; "Senator Abdullahi Adamu is not a father to this Senate but a grandfather to the National Assembly. Many of us, whenever we interact with him, it's like going into a tutorial or some kind of teaching room.
"Sir, I am not going to say that we are going to miss you. We will miss you in the chamber but we are not going to meet you in political activities because we are linked and connected."
Other lawmakers also spoke glowingly of the former Nasarawa State Governor.
In his response, Senator Adamu thanked his colleagues for their support and promised to represent them well in his new role as the APC chairman.
"First and foremost, I want to thank Almighty God for this honour for me to have been seen as a fit and proper person to lead the ruling party, APC in Nigeria.
"In thanking Almighty God, my gratitude to God will not be complete if I do not thank President Muhammadu Buhari for seeing me through the light of God himself that I am suitable for this very important assignment as a result of which he gave his endorsement hat made all this possible.
"I want to thank other party leaders through this Chamber for the support which they gave and made my choice at the convention possible.
"His Excellency, you led our colleagues through the APC caucus to give their support which added more than ordinary value to the decision to have me as National Chairman of APC.
"I have listened to the kind words of our colleagues.
"I will cherish the advise that come from our contributions and I want to assure you that I remain a product of this Chamber. We will protect the integrity of the National Assembly," he said.