Who Will Change Surname?: Reactions As Mr. Eazi Proposes To Temi Otedola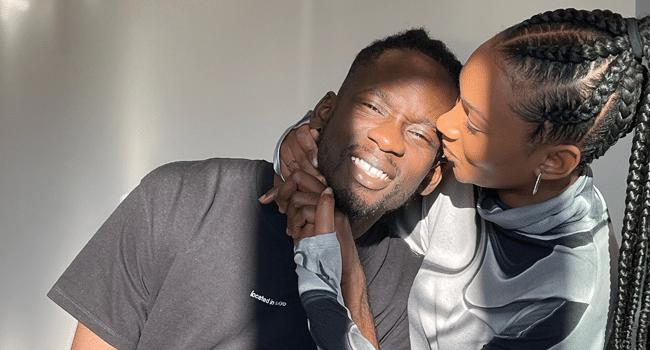 The news of the engagement between Nigerian singer and songwriter, Oluwatosin Ajibade, better known by his stage name Mr Eazi and actress, Temi Otedola, daughter of Nigerian businessman, Femi Otedola has stirred reactions on social media.
Naija News had earlier reported on Sunday that Mr. Eazi popped the question and Temi said yes, sparking an influx of congratulatory messages to the love birds.
It is understood that Mr. Eazi and Temi have been together for about four years.
Following the engagement, many people have taken to the micro-blogging site, Twitter to share their views. Below are some of the views culled by Naija News.
Who else noticed that The ring Mr. Eazi used to propose was shinning in the dark… pic.twitter.com/31yJDPPgRg

— Mr. Czar 🕊 (@nonso_nnamani) April 10, 2022
Mr Eazi deserves everything he's getting now, a very fine and hardworking man who has found a good wife in Temi Otedola who is also beautiful smart and talented, happy for them

— Last born🔥🐉 (@AdimulaNifemi) April 10, 2022
Mr Eazi is marrying Temi Otedola. Love must be sweet when money is abundant 🥹

— Dr King Uchiha Winter ❤️ 🕊 🙈 (@I_Am_Winter) April 10, 2022
Mr. Eazi is a chilled Guy… One with a Fantastic Drive.

Temi Otedola is equally a chilled Babe… Beautiful and Modest.

Both of them are deserving of themselves. I like!

— Kes IZODUWA ⚡ (@Kestim_) April 10, 2022
Mr Eazi proposed Temi Otedola

Congratulations to both of them and wishing them the best of marriage life.

Don't let them tell you men are scum if they're single and hopeless

Real men still appreciate real women who bring peace, champion growth and femininity.

— Safemoon Nigeria 🇳🇬𓃵 (@Safemoon_naija) April 10, 2022
Temi Otedola and Mr Eazi has decided to do forever together. They both makes this relationship thingy look so easy, no unnecessary drama and clout. I wish them all the best in their union.

— Eniola (@UNCLE_AJALA) April 10, 2022
Mr Eazi has proposed to Temi Otedola and you are still asking "who gave you my number ?" well done ooo continue

— иυєℓℓ™🦅 (@alhajinuell) April 10, 2022
Temi and Mr Eazi has been dating for years, no controversy, no scandals, you only see what they choose to show you and they're both cool individuals.

Congratulations to them and I wish them the very best in their union.

— SportsDokita (Odogwu ☝️) (@Sports_Doctor2) April 10, 2022
God of Mr Eazi abegg #cuppy pic.twitter.com/upwv7S9Rov

— OlayinkaJunior (@PappyUnilorin) April 10, 2022
Mr eazi and Temi obviously had an healthy relationship, they kept their matter off social media, look at where they are right now, congrats to them😭😭❤❤

— AyoTheAlmostRichUncle (@ayo_theboy) April 10, 2022
Mr Eazi proposed in grand style. Nice view. Most people thought they would eventually have one big silly fight and end things, but it turns out that Mr Eazi was very diligent in the relationship.
Don't think anybody would be foolish enough to spoil such a relationship. Congrats!

— Sir David Onyemaizu🦍 (@SirDavidBent) April 10, 2022
Mr Eazi proposed to Temi Otedola. I am happy for them. Cuppy and Anthony Joshua next. Who no agree, go fight am!

— sophia (@90sSophie) April 10, 2022
Mr. Eazi is my type of guy, no point of social media validation when it comes to relationships — their intention is to see it fail and say I said it.

— Mayowa olagunju ❁ (@iam_doctormayor) April 10, 2022
Make no mistake, Mr. Eazi & Temi Otedolla's marriage isn't a case of the rich marrying the poor. Mr Eazi is one of the biggest musicians in Africa ATM. If you like don't go and hustle, keep on waiting for a rich in-law to lift you from poverty, it only happens in Nollywood

— Ifeanyichukwu ☢️ (@Myka_veli) April 10, 2022
Mr Eazi dey outside dey propose to Temi. YOU yes YOU!!! You dey inside dey ask "God when"? pic.twitter.com/00uCVVMOjR

— B I G • I N C R E D I B L E 👑 (@Emmavic14) April 10, 2022
When Mr Eazi and Temi finally gets married, who will change its surname btw em 🤔

— Starboy Ali (@AleeMuhammed1) April 10, 2022
Mr Eazi should hold a WhatsApp class for guys on how to woo a Billionaire daughter. 🙏

— HΞNOS (@henosix) April 10, 2022