Sunday Igboho Reveals When He Will Return To Nigeria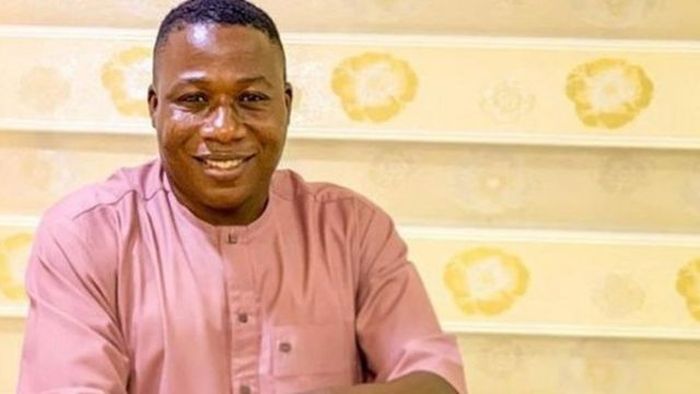 Yoruba Nation activist, Chief Sunday Adeyemo, popularly known as Sunday Igboho, has vowed to return to Nigeria very soon.
Sunday Ighobo said he would be returning to the country to follow up with the terrorism case instituted against him by the Nigerian Government.
The activist asserted that the Yoruba struggle will remain until the killings and kidnappings in South West are curtailed and the perpetrators are arrested.
He made these known in a viral video alongside the leader of Ilana Omo Oodua Worldwide, Prof Banji Akintoye and the deputy leader of the group, Prof. Wale Adeniran.
Igboho thanked those who stood by him during his trying period, especially, notable Yoruba leaders, legal counsel and his wife as well as family members.
He said: "I want to thank everyone, I want everyone to be calm. I won't betray you all. This is me here. I'm fine, hale and healthy.
"Yoruba struggle will remain, and it will be stronger. Yorubas are suffering and smiling. They are killing, kidnapping and doing all sorts in Yorubaland and we are not talking.
"I'm coming back home soon. I'm a true son of the soil. One cannot be scared of his father's home. Nothing will happen and no one will be scared of anyone.
"All that I've asked the Federal Government they are yet to answer, and the court has ruled in my favour. Asides from the judgement in Benin Republic, I'm coming to follow up with my judgement in Nigeria. Federal Government must pay my money. It is 20bn.
"When I get back to my base in Ibadan, I will thank everyone especially again. You will see me well. Dear Yorubas, don't be scared, Igboho is back."
Speaking on how he felt when they informed him of his release from prison, he said: "The day I was released, I was playing "Ayo" with an inmate, and a police came, he said "Chief come, where is your lawyer? He said call your wife and lawyer, your father is around (Baba Akintoye). President has released you.
"I was shocked and asked him to show me a document to that effect. It was written in French. It took the efforts of another inmate to interpret it and he told me I've been released and that was how I believed. When I called my lawyer, they told me they were on their way and were already aware of my freedom. I thought I was dreaming.
"The lawyers stood by me, and they said I should be calm despite the charges that they wanted to investigate against me."