President Talon Of Benin Republic Did Not Allow Me Sleep With My Wife In Detention – Sunday Igboho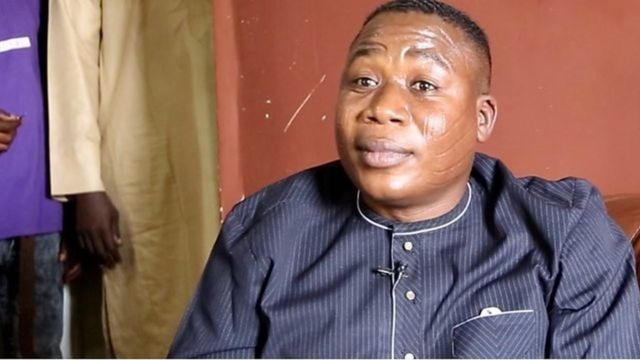 Yoruba Nation activist, Chief Sunday Adeyemo, popularly known as Sunday Igboho, has said he was granted total freedom during his detention in Benin Republic.
He however stated that he was not allowed to sleep with his wife, Ropo Adeyemo, Naija News reports.
Speaking in Yoruba Language in a viral video alongside the leader of Ilana Omo Oodua Worldwide, Prof Banji Akintoye and deputy leader of the group, Prof. Wale Adeniran, Sunday Igboho thanked President Patrice Talon for giving him maximum freedom.
He also dismissed reports that he was down with health-related issues while in detention, describing such reports as 'fake news'.
The agitator thanked notable Yoruba leaders, his legal counsel and his wife as well as family members for standing by him during his trying times.
"I return all glory to God for everything. Everything happened with His knowledge. There was no time I fell sick or had any health-related issues while in the prison. The Benin Republic President gave me maximum freedom to the extent that I do whatever I like. It was just that they did not allow me to have intercourse with my wife," Sunday Igboho said.
"The country should be regarded as one of the best African countries, owing to a series of turn around since the president took over the mantle of leadership. He has stabilised the socio-economic progress of the country.
"He invested a lot in the security apparatus of the country to the extent that, even the police are well remunerated beyond imagination, unlike the poor working condition being subjecting our own police to in Nigeria.
"During my stay in the prison, I enjoyed uninterrupted power supply. If everything works fine in my country, someone like me will not be out seeking for the Yoruba nation. But I will not say more than this for now."
Speaking earlier in the video shared to Naija News by Maxwell Adeleye, Illana Omo Oodua spokesperson, Prof Akintoye hailed the president of Benin Republic.
He stated that Talon refused to give in to pressures from the Muhammadu Buhari-led government to extradite Sunday Igboho.
Akintoye said: "He has done wonderfully. His vision was clear from the beginning, from the moment Igboho was arrested.
"That was why he never agreed to the planned extradition of Igboho to Nigeria. This is a different country from Nigeria.
"The people who rule this country are civilised people. I want to say without any iota of doubt that Sunday Igboho is hale and hearty as against the rumour making the waves that he was down with an ailment.
"The day he was going to be released, they called me and presented him to me that this is your son. All well-meaning Yoruba leaders should thank the president alot."