Nigerian Newspapers Daily Front Pages Review | Saturday, 2 April, 2022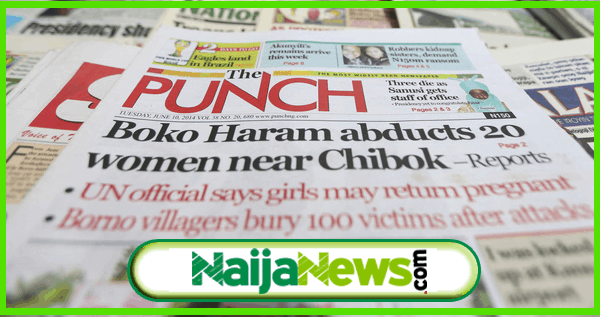 Naija News looks at the top happenings making headlines on the front pages of Nigeria's national newspapers today Saturday, April, 2nd 2022.
The PUNCH: No fewer than 1,545 persons have been killed by terrorists within the first quarter of 2022, a joint report by the Community of Practice Against Mass Atrocities and the Joint Action Civil Society Committee under the aegis of Nigeria Mourns has revealed.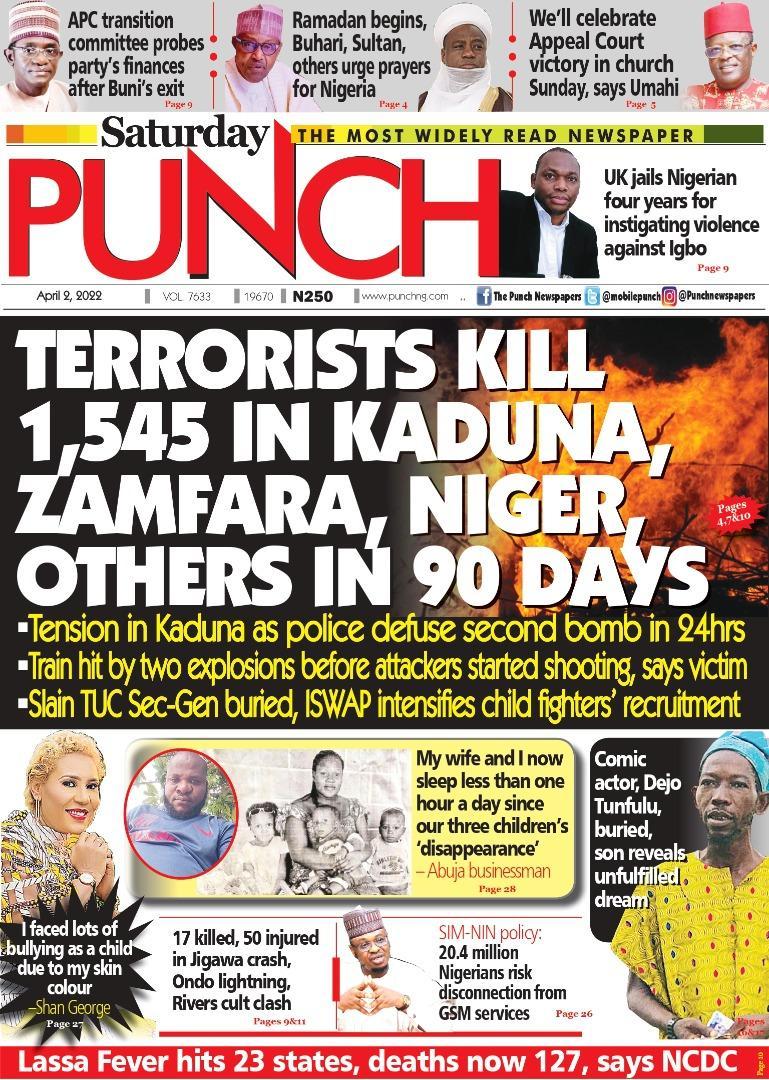 ---
The Guardian: Against the backdrop of the bombing of an Abuja-Kaduna train last Monday night, security experts and concerned Nigerians have reinforced their calls on the Federal Government to stop handling the current security challenges with kid gloves and devise pragmatic means of restoring peace in the northern part of the country.
---
The Nation: The survivors recounted how the bandits overpowered the inbound security personnel and took charge of the train. One of the survivors, Shuaibu Adamu Alhasssan said, the policemen on board gave a good fight, but they later removed their uniforms and joined passengers in lying under seats.
---
This Day: The Nigerian Navy yesterday commenced what is evidently its biggest operation aimed at putting an end to oil theft and illegal refining in the Niger Delta, with the deployment of 40 ships, five helicopters and 200 boats for "Operation Dakatar Da Barawo" (stop the thief) across the region.
---
Daily Trust: The Governor of Kaduna State, Malam Nasir El-Rufai, has threatened to bring in foreign mercenaries to fight terrorists hibernating in forests areas around Kaduna State if the Federal Government under President Muhammadu Buhari fails to tackle the terrorism head-on.
---
Saturday Sun: One of the survivors of the Kaduna train attack has revealed why the escort-security men on board the ill-fated train could not save the passengers from their attackers
Thank you for reading, that all for today, see you again tomorrow for a review of Nigerian newspapers.