Hisbah Raid Alcoholic Drink Chambers In Jigawa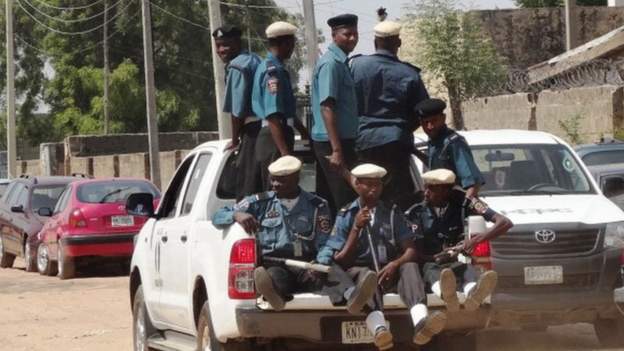 Jigawa State Command of Sharia Police popularly known as Hisbah has carried out raids on alcoholic drink centres in the state.
Naija News understands that the Islamic law enforcement agency on Tuesday carried out a raid in the Maigatari Local Government Area where it intercepted at least eight 25-litre jerry cans of a local alcoholic drink popularly known as burukutu.
Confirming the operation, Hisbah commander in Jigawa, Malam Ibrahim Dahiru, told newsmen that the command also seized 96 bottles of assorted alcoholic drinks at some centres on Tuesday.
Dahiru disclosed that his men carried out the successful raid on Tuesday at about 3 am.
The commander enjoined residents to be law-abiding as the consumption of alcoholic beverages was prohibited in all parts of the state.
Meanwhile, about two weeks ago, former federal lawmaker, Senator Shehu Sani visited Hisbah Board headquarters in Kano State.
Speaking with journalists on his visit, the former Senator said he visited the Islamic police office in order to inquire about their duties, responsibilities and issues that are being attributed to them.
The former Kaduna Central Senator added that he asked the board if he risked arrest for keeping an afro haircut which might be seen as "unIslamic."
Sani said he was told that the board has not prohibited those who decided to keep afro hair, saying that he was at their office to defend the right of people to keep their hair.
He, however, urged the Islamic police to join forces with other security operatives in the North West and fight terrorists and bandits.
Sani said: "Many things have been said about Hisbah and I believe that as a former senator, as human and civil rights activist, I should practically visit their office and hear from them on what are their duties and responsibilities and also issues that are being attributed to them.
"I am happy to hear that they have not prohibited those who decided to keep afro like me because I am here to defend the right of people to keep their hair.
"Secondly, they have told me in practical terms that they are against the manufacture, distillation, disposal, consumption and possession of intoxicating alcohol in the state.
"They told me they have a dress code which if you violate, you face the law. The issue of mannequins that you cannot keep with the head. Films and movies. It is good to engage an institution like them.
"As religious police, they have a duty to unite and see how they can combat banditry and terrorism in Nigeria. Terrorists have been using the name of Islam in destroying the image of Islam and Muslims.
"The need for Hisbah to organise themselves and ideologically confront terrorists and bandits is very important. The need for them to intervene in mobilising people to stand against banditry and terrorism in the northern part of Nigeria.
"There's also need for them to reach out to rural communities and educate our citizens on the need for them not to join bandits and terrorist is also very important. So, apart from enforcing religious law, there's need for them to also at this hour to be very much present, active and agile in finding a lasting solution into the problems of Insecurity bedevilling our people."