Video: Pro-Osinbajo Groups 'Take Over' APC Convention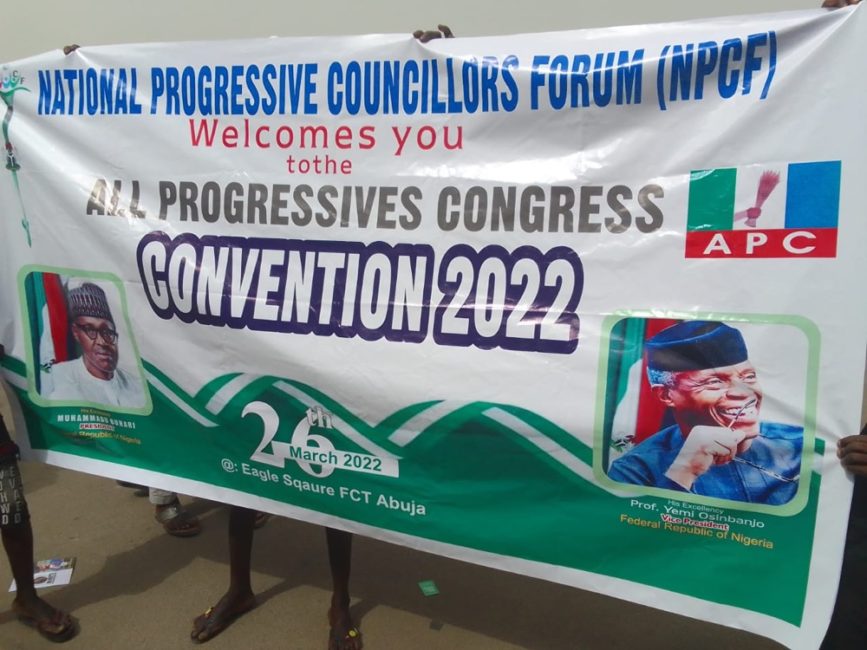 The support groups of Vice President Yemi Osinbajo have taken over the venue of the ongoing National Convention of the All Progressives Congress, despite not declaring his intention to run for the presidential elections in 2023.
The groups were seen in their numbers ,carrying banners canvassing for public support for the vice president to succeed President Muhamnadu Buhari.
His posters were visible across the venue and outside.
The streets leading to the Eagles Square venue of the convention were also taken over by his support groups who waved his banner and sang his praises.
Watch video below;
Youth wing support group of Vice President Yemi Osinbajo at APC's National Convention. pic.twitter.com/ajOx8frtcV

— OTUNBA 🇨🇦 (@ManLikeIcey) March 26, 2022
Meanwhile, the Osinbajo Global Movement recently described the recent viral reports that the Vice President has denied his 2023 presidential ambition as false.
The group through its spokesperson, Chukwuma Azuka, in a statement  urged Nigerians to disregard the report described as a "worthless piece of article issued in bad faith and taste."
According to Azuka, the Vice-President Yemi Osinbajo (SAN) will contest the 2023 presidential election.
The statement was titled, 'Osinbajo never denied ambition for Presidency, group tells Nigerians.'
Azuka, said, "The reports are complete falsehood and fabrications from the imaginations of the Vice President's perennial detractors who are intimidated by Osinbajo's growing political profile.
"We in the Osinbajo Global Movement have predicted this move a long time ago which is why we are not shocked. For us, we know Osinbajo is contesting and will declare soon.
"Credible intelligence at our disposal points to elements working tirelessly to misinform people with the view to damping their hopes that Osinbajo will join the 2023 presidential race."