Details Of Tambuwal's Meeting With IBB, Abdulsalami Emerges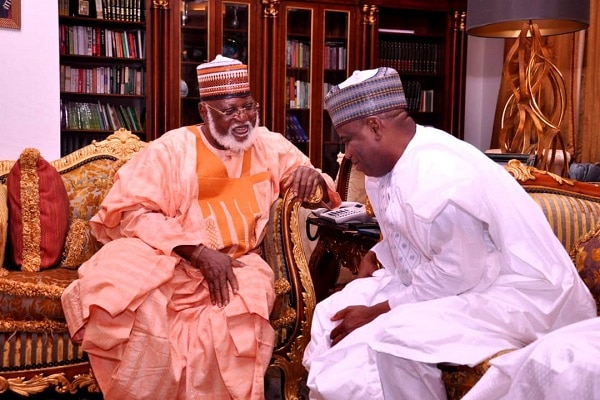 The details of the meeting between Governor Aminu Tambuwal of Sokoto State and former Military President, General Ibrahim Badamosi Babangida and former Head of State, General Abdulsalami Abubakar, have emerged.
Naija News learned that the presidential aspirant had earlier met behind closed doors with Babangida at his Hilltop residence in Minna, the Niger State capital on Tuesday evening.
It was learned that the meeting lasted for an hour before meeting with Abubakar for about 30 minutes at his house opposite IBB's residence.
Briefing newsmen about his discussions with the two former leaders, Tambuwal said he came to inform them of his intention to become the next president of the country in 2023.
The governor added that he was in Minna to consult and ask for their blessings in his bid to vie for the presidency under the Peoples Democratic Party (PDP).
Tambuwal pointed out that discussions are ongoing regarding the issue of a consensus presidential candidate for PDP ahead of the 2023 elections.
He disclosed that there have been a series of meetings between Senator Bukola Saraki, Governor Bala Mohammed and himself in order to choose the best candidate for the party.
"We are engaging ourselves. First, we have agreed that it is about this country and not about an individual's ambition.
"We have agreed that there is a need to come together to know the tension and make sure that we work as a team. It is a work in progress and we will meet again and further the conversation," he said.
Tambuwal opined that the 2023 elections should not be based on zoning, asking the PDP to work towards winning the elections rather than being fixated on zoning.
He explained that zoning was a deliberate action by the political class that was midwived to address a particular concern at that period, which was June 12.
Tambuwal however, urged political parties to jettison zoning and throw up candidates for Nigerians to decide and elect.