"I Can't Leave PDP" – Obaseki Declares As He Tackles Dan Orbih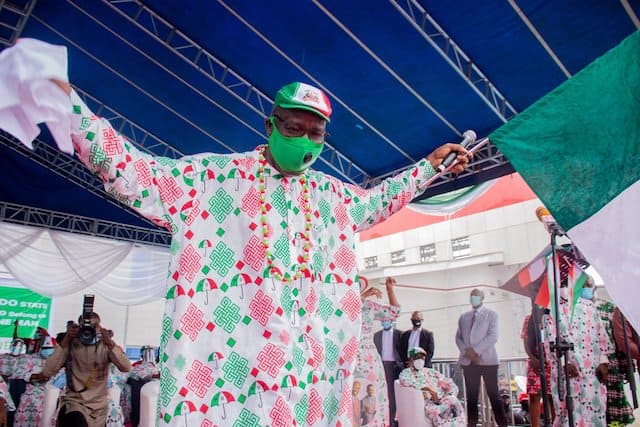 The Governor of Edo  State, Godwin Obaseki has declared that he has no intention of dumping the Peoples Democratic Party (PDP).
According to him, the PDP is the leading party in Edo and has been winning elections and will continue to do so.
This is as he called out another chieftain of the party, Dan Orbih who is the PDP National Vice Chairman (south-south) to accept his leadership in Edo, urging him not to cause bad blood among party members.
The Governor also shut down any report of a crisis or division within the PDP in Edo, calling on all members and stakeholders to join hands in moving the party forward.
Naija News understands Obaseki made the submissions over the weekend during an expanded caucus meeting of leaders and members of the PDP in Edo State.
"I can't leave PDP. I will not decamp from the PDP; we will always win any election. PDP won in the last election and we will continue to win all elections in the state and country; nothing will stop us as a party," he said.
"There is no division in Edo PDP. Let the party be open to accommodate others. PDP is democratic. The hallmark of democracy is ensuring that the majority has their way, as the minority can't dictate to the people.
"I heard that Chief Dan Orbih went around, saying there is no harmonization in Edo PDP. This is really irresponsible to say and an insult to members of the party, as the party has truly harmonized in the state.
"PDP in Edo State is harmonized because before we made any appointments in any ward, we made sure the party at that level was harmonized. We are gathered here now as election timetable is out; harmonization has been done, appointments made and we are ready to win any election before us," he added.
During the meeting, Obaseki disclosed that the PDP National Chairman Iyorchia Ayu will visit the state on Thursday 10th of March 2022.
He called on party members in the state to close ranks and ensure the PDP remains the ruling party in Edo.
"Politics is not about fighting but dialogue and discussion. I urge us to collaborate and unite to move the party and state forward," he charged.
Some party chieftains present at the meeting included the Chairman of the PDP in Edo State, Anthony Aziegbemi, the Deputy Governor of Edo State, Rt. Hon. Comrade Philip Shaibu; Speaker of Edo State House of Assembly (EDHA), Hon. Marcus Onobun; Senator Matthew Urhoghide; Senator Clifford Odia; Chief Tom Ikimi; Hon. Joe Edionwele and National Youth Deputy Leader of PDP, Timothy Osadolor, among others.