Hope He Has Learned His Lessons? – Reactions Trail Sunday Igboho's Release From Detention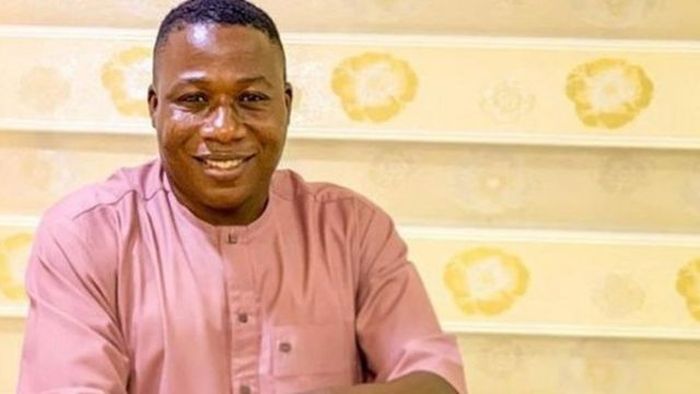 The release of Yoruba Nation activist, Sunday 'Igboho' Adeyemo by the Benin Republic Government has stirred reactions online.
Naija News earlier reported that the spokesman of the Ilana Omo Oodua Worldwide, Maxwell Adeleye, said the Yoruba activist was released from detention on Monday.
Adeleye disclosed that Igboho was released to the leaders of the Yoruba Self-determination group, Professors Banji Akintoye and Wale Adeniran.
He said Akintoye described the release of Ighoho as a triumph of truth over darkness in Yorubaland.
Nigerians have now taken to social media to react to the release of Sunday Igboho from the Benin Republic prison facility.
See some of the reactions below:
Sunday Igboho has been released..

Any noise again, DSS do your work.

— king Henry (@Henribankz) March 7, 2022
Finally Oga Sunday Igboho is out pic.twitter.com/FFPYbRBvng

— AKÉWEJÈ OF ÈKÌTÌ 🇳🇬 (@hardewumipaul) March 7, 2022
Sunday Igboho has been released from detention. He should have learnt his lessons now. Never walk alone is indeed a good mantra. pic.twitter.com/3zAyimXQwo

— 𝔸dekunle 𝕊ulaimon🥇 (@su_providence) March 7, 2022
Sunday Igboho's ordeal has proven that at the end of the day, it's all man for himself.

— Sammy Desh (@Deshysmalls) March 7, 2022
Will Sunday igboho now come home or…

— Vote Wisely™ (@Kaycce) March 7, 2022
Since they said they released Sunday Igboho now, when is he coming home and when is his people gonna throw party so we can come chop.. We need Ankara too, but make the Ankara no pass 5k o… Country is hard

— Sodeeq (@suzytuny4u) March 7, 2022
Sunday Igboho have been released from Benin prison #march26th #JusticeForBamise #BRT

— Ọmọ ajade Má tán nlé (@iamtslim4) March 7, 2022
Sunday Igboho should come and be fomenting trouble again.

— Moshood Abiola (@De_Moshood) March 7, 2022
Sunday Igboho's ordeal has proven that at the end of the day, it's all man for himself.

— Sammy Desh (@Deshysmalls) March 7, 2022
Maxwell Adeleye, a spokesman for Sunday Igboho, has said the Yoruba separatist has been freed from the custody of Benin authorities.

Congratulations Sunday.

— 🎙OLUOMO OF DERBY 🇳🇬 🇬🇧 (@Oluomoofderby) March 7, 2022