12 Burnt To Death In Kano Car Crash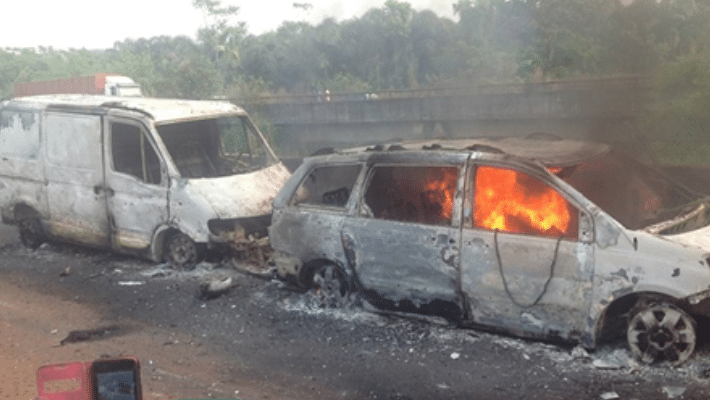 Twelve people have reportedly lost their lives in an auto crash accident that happened on Monday in Tsamawa Town, Kano State's Garun Malam Local Government Area.
The State Fire Service's Public Relations Officer, Alhaji Saminu Abdullahi, issued a statement on Tuesday explaining how the unfortunate incident occurred.
He said: "We received a distress call from one Isah Mai-Fetur at about 3:00 pm that a commercial Hiace bus and another J5-bus had collided and instantly burst into flames.
"Upon receiving the information, we quickly sent our rescue team to the scene at about 3:12 pm to rescue the victims.''
Abdullahi stated that the deceased who were burnt beyond recognition were returning from Zaria road to Kano, while one person in the J5-bus was also going to Kano from Zaria.
He attributed the cause of the accident to over speeding.
Meanwhile, a housewife identified simply as Atika has reportedly murdered her husband, Ibrahim Ahmad Salihu (Mallam Iro) over his second wife.
The incident occurred at Angwa Yerima in Maraba, Karu Local Government Area of Nasarawa State, Daily Trust reports.
The 37-year-old mechanic was said to often spend time with his two wives on a rotational basis and would bid them farewell when going to the other room.
On the night of February 26, the deceased was bidding Atika farewell on his way to spend the night with her junior co-wife when she angrily bit his finger a source told the publication. Read more