Withdraw Troops From Ukraine Now, Buhari Govt Tells Russia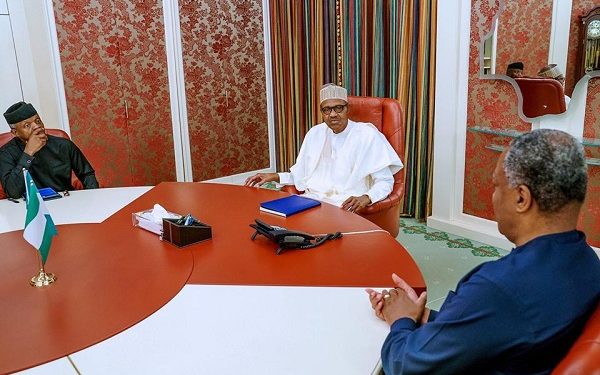 The Nigerian Government has appealed to Russian President, Vladimir Putin to immediately withdraw troops from Ukraine and stop the military invasion of the country.
This was made known by the Minister of Foreign Affairs, Geoffrey Onyeama, after a meeting with the envoys of the G7 countries in Nigeria.
Onyeama asked both the Russian and Ukrainian governments to embrace peace and diplomatic measures to address the ongoing war between the two nations.
The minister stated the Muhammadu Buhari government will support every effort being made to stop the aggression and Russian troops to return to Russia
Onyeama said the Nigerian government cannot afford to see the two countries engage in a full-blown war that will have a lasting effect on the world.
He said: "Peace and diplomacy to be prioritised by both sides. We support every effort being made to stop the aggression and Russian troops to return to Russia."
Present at the meeting were the United States Ambassador to Nigeria, Mary Beth Leonard; British High Commissioner to Nigeria, Catriona Laing; Head of the European Union delegation to Nigeria and the Economic Community of West African States (ECOWAS), Samuela Isopi, as well as representatives of the embassies of Japan and Canada.
Nigeria Govt Summon Russia, Ukraine Over Crisis
Earlier, the minister had summoned the Ambassadors of Russia and Ukraine to Nigeria, Alexei Shebarshin and Kirdoda Valerii.
Naija News reports that the government summoned the duo over the evacuation of Nigerians from both countries.
Speaking on his meeting with the Russian Ambassador, Onyeama said he told Shebarshin that the Government of Nigeria could not condone as a country, the violation of the territorial integrity of a United Nations member state.
According to Nigeria's Minister, he told the Russian envoy that the country must withdraw from Ukraine and prioritise diplomacy and dialogue.
Onyeama added that the Russian envoy insisted that civilians are not being targeted by Vladimir Putin's military.
On his meeting with Valerii, the minister stated that the Nigerian government sympathized with Ukraine regarding Russia's invasion.
While pointing out that Nigeria has diplomatic relations with Ukraine, Onyeama said the Buhari government condemned the violation of their sovereignty and territorial integrity.