Check The Bill First – Nigerians React As President Buhari Signs Electoral Bill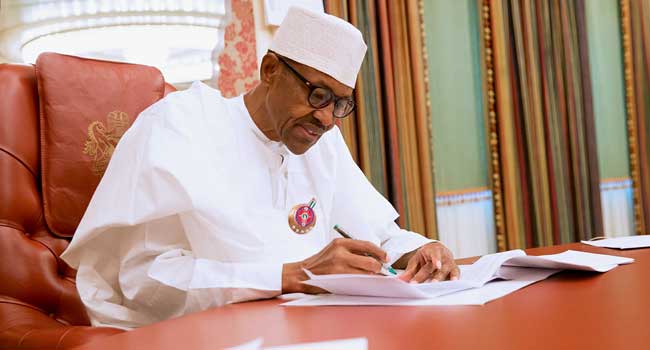 The decision of President Muhammadu Buhari to sign the Electoral Act Amendment Bill into law on Friday has stirred reactions online.
Naija News had earlier reported that a source in the Presidency affirmed that Buhari would sign the revised document around 12pm on Friday.
The President with much anticipation in the air signed the bill at a ceremony which took place inside the Council Chambers of the Presidential Villa, Abuja at about 12:30 pm.
The Chairman of the Independent National Electoral Commission (INEC), Mahmood Yakubu, Senate President, Ahmed Lawan and several others were present at the signing of the bill.
Some Nigerians in their reaction noted that the President should have honourably signed the bill before the protest by civil society organizations compelling him to assent to the bill.
Others are wondering if some important part of the bill had not been removed before the Buhari decided to sign the bill.
See some reactions below:
Everyone that are commending Mr Pres for signing the Electoral Act, did you know the content of the Amendment, are you sure some vital implementations have not been removed from it… Ask yourself..

— ✊Omo-Baba-Daaray𓃵 (@Daaray30) February 25, 2022
Hope opposition party's go through it before Buhari signed it. I don't want to hear Justice for opposition parties.

— Abdulmalik isah ud Usman (@UdAbdulmalik) February 25, 2022
We need to know the content of the Electoral Bill…
Make e no be say we go experience another things for this 9ja

— Feranmi (@i_am_feranmii) February 25, 2022
Let see whether it will bring the desirable change in our electoral system

— ℂ𝕖𝕖𝕛𝕒𝕪🔅💥 (@Benedictshawn) February 25, 2022
Better late than never….I doff my hat, Mr. President..Thank you so much..A step forward for Nigerians..👍

— Jeffrey Ubeku (@jeffreyubeks) February 25, 2022
I'm not celebrating this out Govt better start getting serious with security life's and property of her citizens. Chei Una dey see wetin dey happen for Ukraine

— Ufuoski FX (@jay_ufuoma) February 25, 2022