2023 Presidency: Tinubu And Buhari Are APC And APC Is Both Of Them – Jibrin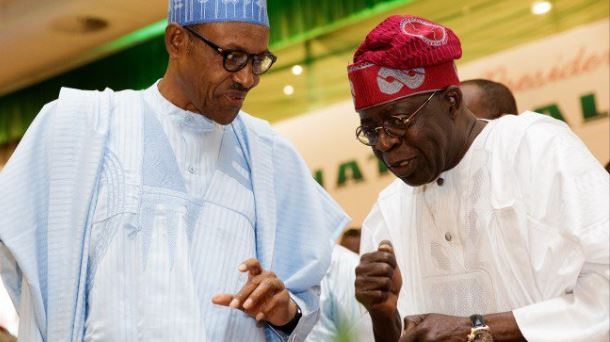 A former member of the House of Representatives and Director-General of the Tinubu Support Management Council, Abdulmumin Jibrin has downplayed any form of rift between Asiwaju Bola Tinubu and President Muhammadu Buhari in the build-up to the 2023 presidential election.
Tinubu, a National Leader of the ruling All Progressives Congress (APC) has declared his intention to contest the 2023 presidency in Nigeria and replace President Buhari.
There are however insinuations that Buhari may not be willing to hand over to Tinubu after completing his tenure but Jibrin has stated that both of them understand the 'game' they are playing and nobody can understand or come in between them.
While declaring his intention, Tinubu who visited President Buhari at the Aso Rock Villa in Abuja back in January 2022, stated that his ambition to be President has been a life-long ambition, noting that what he did in Lagos in his time as Governor, he has the capacity to do in the entire country.
On why he would not remain a kingmaker, Tinubu said nothing stops a kingmaker from becoming the king unless he has committed murder.
After the meeting between the two leaders, Tinubu had a chat with newsmen at the Villa where he was asked how Buhari responded to the information on his presidential ambition.
Tinubu said: "He's a democrat, he didn't ask me to stop. He didn't ask me not to attempt and pursue my ambition. It's a lifelong ambition.
"So, why will I expect him to say more than that? Why do you? You are running a democratic dispensation and you must adopt the principles and virtues of democracy."
However, there have been several insinuations within political quarters that Buhari may be unwilling to hand over to Tinubu and would prefer another aspirant clinches the APC presidential ticket for 2023.
But Jibrin in his Twitter post on Wednesday has said both leaders understand each other perfectly and know how to handle the situation.
He urged people not to try and come in between them but just keep watching as the political drama unfolds.
He wrote: "Just leave President Buhari and his brother, loyalist and ally Asiwaju Tinubu. You can't come between them. You just can't. Both of them are APC and APC is both of them. They know where they are coming from and they know where they are headed. Nothing but greatfulness to God"
Just leave President Buhari and his brother,loyalist and ally Asiwaju Tinubu. You can't come between them. You just can't. Both of them are APC and APC is both of them.They know where they are coming from and they know where they are headed. Nothing but greatfulness to God 🙏🙏🙏

— Abdulmumin Jibrin (@AbdulAbmJ) February 23, 2022