2023: Reactions As Aregebsola Attacks Tinubu, Akande, Oyetola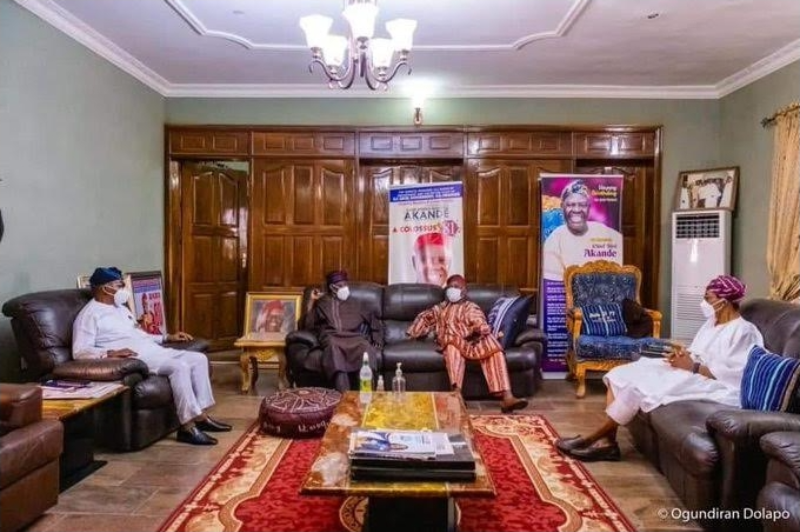 Several reactions have trailed the scathing remarks made by the Minister of Interior, Rauf Aregbesola on the National Leader of the All Progressive Congress (APC), Bola Ahmed Tinubu.
Naija News reports that Aregbesola, at a political rally on Monday in Osogbo, described Tinubu, who he had once trusted politically, as a betrayal.
The former governor lamented Tinubu's involvement and lackadaisical attitude towards the poor governance of his successor and incumbent Osun Governor, Gboyega Oyetola.
Aregbesola accused Tinubu and former APC interim chairman and ex-governor of Osun State, Chief Bisi Akande, of foisting Oyetola on the people against the popular will.
The minister frowned at the development and declared that enough is enough for the politics of godfatherism and enthronement by treacherous leaders who equated themselves to the status of a god.
He, therefore, called on the party members in Osun to support a former Secretary to the State Government, Moshood Adeoti, in Saturday's governorship primary.
Nigerians have now taken to social media to react to the remarks made by the minister and the political crisis ongoing in the APC in the state.
See some of the reactions below:
What else does Aregbe want that he's not gotten?

8years as commissioner, 8 years as Gov, and currently on course for 4years as a substantiative minister.
Man still controls a huge part of Alimosho in Lagos. What else does he wants? Too much greed can never make you be Jagaban.

— Yusuf M. (@Siryusuf80s) February 15, 2022
To me, Aregbe hasn't done worse. Bola Tinubu was not Amosun's leader, where his support lies didn't matter to Amosun, he going to go all out and he did by creating a new party, yet he remained in the APC, won the election, got federal appointments over Dapo. https://t.co/gjKNBMEVih

— Ola-Olalekan (@OlalekanOR) February 15, 2022
Aregbesola said Tinubu removed Ambode for a reason but doesn't want the Party to remove his brother(Oyetola) for the same reason. pic.twitter.com/3QzWP65jtv

— Premier (@SodiqTade) February 14, 2022
It's normal for Politicians to overrate themselves. That's was how Tinubu boys led by Aregbe wanted to stop Aketi in 2017. They backed Oke and lost woefully. One gov in Ogun state too backed Shehu in Osun in 2018 and lost Powerfully. The funniest one was the man who went to …

— Olukayode bakre (@kayodebakre8) February 15, 2022
Aregbe don enter oga at the top 😂😂😂, i will need to hangout with these old men in this estate to discuss osun politics tonight …: there's even champions league tonight… make sense .

— Arise_ jnr (@Caapella1) February 15, 2022
Without Tinubu,, Aregbe would have been a low key Alfa, but here he is challenging his benefactor.
Tinubu is no saint, but I will never trust a man that betrayed his boss.

Las Las Davido will sing the national anthem in Oshogbo on the swearing in ceremony of the dancer.

— Justice Chancellor. (@JusticeChancel1) February 15, 2022
2018 election was more of Aregbe than Oyetola. Oyetola has corrected many of Aregbe mistakes that made the party to struggle during the poll.
Non-payment of salaries
single uniform policy
merging of schools
Abandonment of Osun west
Etc

— Sola (@Advsola) February 14, 2022
At least I learnt arguing with not just facts but also with figures from Aregbe as much as I hated him that year.

I still don't know how he won Oyinlola over to ACN

— Chief Moh 🤍 (@MB_Adesina) February 14, 2022
The genesis of Aregbesola/Oyetola feud is hinged on two things — Aregbe's loyalists claimed they were sidelined by Oyetola in the running of his admin., a situation which they said, pissed them off. They also accused Oyetola of changing the policies, programmes executed by Aregbe

— Alao Abiodun (@biodun_alao) February 14, 2022
Was Oyetola not part of Aregbe 8 eight years reign? Politics is just the dirtiest game, interesting days ahead!

— Olusoji Blessing-Ojo 🇳🇬 (@Melosoj) February 14, 2022
https://twitter.com/pojugreat/status/1493340190802432003
Osun people's curse on Aregbe is finally manifesting, I love this kind of politics, this election in Osun in July will mark the end of some politicians politically, if PDP wins, I can bet Aregbe will cool off in Ilesha prison, if Oyetola wins, he will probably go to the prison in

— Uncle Nearest (@DapoMUFC) February 14, 2022
https://twitter.com/OgbeniIjesha/status/1493429021069266948
https://twitter.com/prince_kay1/status/1493331883517792262