Ritualists Drown In Sea During Diabolic Performances At Midnight In Indonesia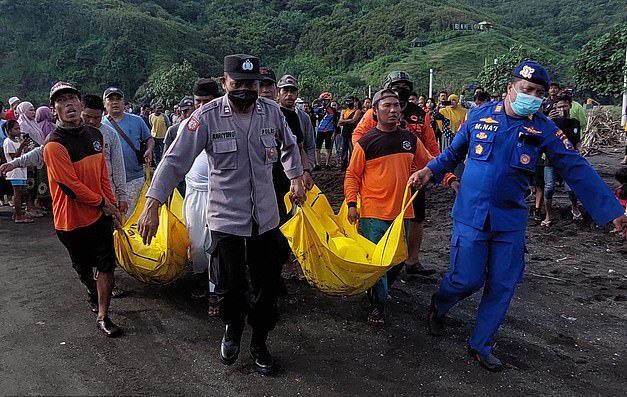 Strong sea waves have reportedly swept away at least eleven people performing rituals in Indonesia's East Java province.
The locals were reportedly observing diabolic activities on a beach on Sunday night February 13 when they drown in the deep sea.
Naija News learnt several warnings have been issued by authorities advising people to avoid the sea but the eleven individuals and others have refused to adhere.
According to AP, Head of Operation Unit of the Disaster Management and Mitigation Agency, Java Budi Santosa had told Xinhua that the accident occurred at about 12:25 am (local time) on Sunday when people were conducting a traditional ritual at the Payangan beach in Jember district.
The victims are said to be a part of a group of 24 people who came from different villages to participate in a local ritual.
Naija News learnt that participants in the ritual will have to swim in the ocean to complete the processes.
The Surabaya Search and Rescue Agency have confirmed that there were 13 survivors including a 2-year-old girl and that they are undergoing treatment at a health clinic.
In other news, a man and his wife were arrested in Ogun State, Nigeria for possessing fresh human parts.
It was reported that the duo, Kehinde Oladimeji, 43, and wife Adejumoke Raji, 35 were arrested during the week at No 72, MKO Abiola way, Leme Area of Abeokuta, the state capital.
Human parts comprising of hands and breasts were found at the culprit's house, Naija News reports.
Speaking on their arrest on Saturday, DSP Abimbola Oyeyemi, the State Police Public Relations Officer said the couple were arrested following a report lodged at Kemta Divisional Headquarters by one chief Moshood Ogunwolu, the Baale of Leme Community.
Oyeyemi noted that the Baale had reported that one Pastor Adisa Olarewaju who is a co-tenant with the suspects informed him of offensive odours coming out from the room of the suspects.
Upon the complaint, the DPO Kemta Division, CSP Adeniyi Adekunle, quickly led his detectives to the scene where searches were conducted.
On searching the room, a plastic bowl containing fresh different parts of human being was disc comprise the room, and the couple was promptly arrested.