Profile Of Biodun Oyebanji, APC Candidate For Ekiti 2022 Guber Election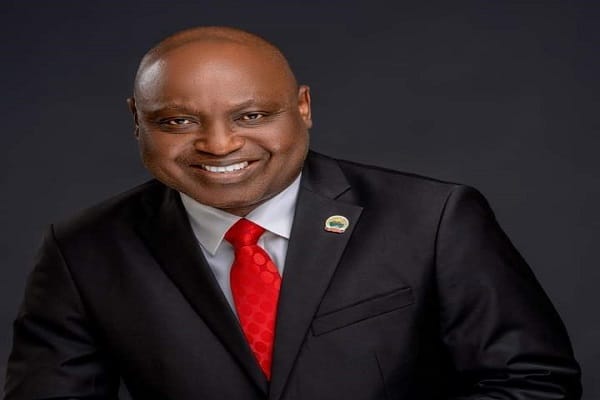 Biodun Oyebanji on Thursday cruised to victory in the primary election conducted by the All Progressives Congress (APC) to choose its candidate for the 2022 governorship election in Ekiti State.
It will be recalled that Naija News had earlier reported that Mr. Oyebanji defeated all others contestants in the primary election, leading his closest rival with over 100,000 votes.
According to the result declared by the chairman of the election committee, Governor Mohammed Badaru, Oyebanji polled 101,703 votes, while his closest challengers; Ojo Kayode had 767, Opeyemi Bamidele had 760 and Dayo Adeyeye polled 691 votes.
Below are some interesting facts to know about the APC candidate Biodun Oyebanji who will represent the party in the June 18 governorship election to be conducted by the Independent National Electoral Commission (INEC).
1. He was born on December 21, 1967.
2. He hails from Ikogosi-Ekiti.
3. In 1999, Oyebanji, then 32, was one of the key aides to the first democratically elected governor of Ekiti state, Otunba Niyi Adebayo. He was later to become the Chief of Staff to the governor.
4. He is the immediate past Secretary to the State government, having resigned to contest the governorship election. Before then, he was Commissioner for Budget and Economic Planning during Governor Kayode Fayemi's first term.
5. He began his academic journey at Baptist primary school, Ikogosi-Ekiti. He attended Awo Community High school before transferring to C.A.C Grammar school, Efon-Alaaye, Ekiti State in 1979, and later attended the Federal school of Art and Science, Ondo State, and the District Commercial Secondary School, Aramoko-Ekiti from 1983 to 1985.
6. He acquired a Bachelor of Science (BSc.) degree in Political Science from the Ondo State University (now Ekiti State University, Ado-Ekiti) in 1989 and continued his quest for honours at the University of Ibadan, Oyo State in 1992 where he bagged his masters' Degree (M.Sc) in Political Science (International Relations & Strategic Studies).
7. Oyebanji started his professional career as a Lecturer at the Department of Political Science, University of Ado Ekiti, where he worked for four years (1993-1997) and later proceeded to work as Manager, Treasury, and Financial Service at the defunct Omega Bank Plc (now Heritage Bank) till May 1999.
8. He is married to Prof. (Mrs) Oyebanji, who is an associate professor at the  University of Ibadan and also a princess in Ado Ekiti.