Embattled Dowen College 'Moves On, To Start A New Chapter'
The management of Dowen College has shared its plans of a new chapter weeks after the police cleared 5 students over the death of 12-year-old Sylvester Oromoni, who dead under controversial circumstances. 
The school in a statement released on Thursday, January 27, stated that due to the incident, they are reviewing some of their policies to ensure better oversight functions within the school.
They further disclosed a new chapter  for the school, adding that authority won't be hesitant to relieve anyone responsible for any administrative lapses.
They also noted that they are working with the Lagos state ministry of Education and have taken on board their guidance and suggestions with regards various areas of improvement in the school.
Read full statement below;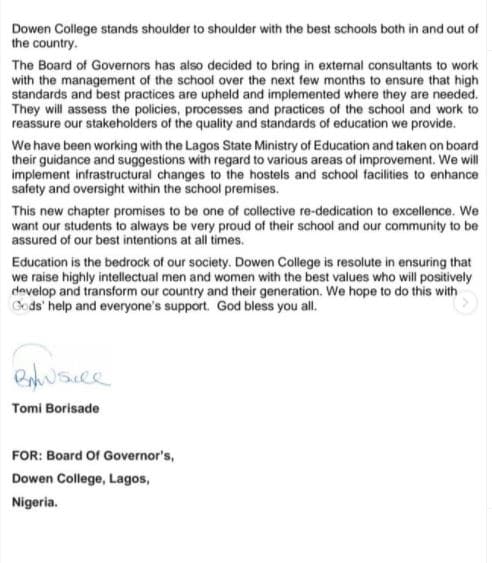 It would be recalled that the Lagos State Government had stated that 12-year-old Sylvester Oromoni was not murdered, clearing the five students, employees and Dowen college of any foul play.
The decision was made due to the legal advice of the Director of Public Prosecution, DPP, Ms. Adetutu Oshinusi, submitted to the Deputy Commissioner of Police, State Criminal Investigation Department, SCID and the trial magistrate, Magistrate Olatunbosun Adeola,
The final autopsy report issued by the Lagos State University Teaching Hospital and toxicology report of post mortem samples and that of the Central Hospital, Warri, were in agreement as to the cause of death namely: Septicaemia, Lobar Pneumonia with Acute Pyelonephritis, Pyomyositis of the right ankle and Acute Bacteria Pneumonia due to severe Sepsis.
The DPP's advice therefore concluded that there is no prima facie case of murder, involuntary manslaughter and or malicious administering of poison with intent to harm against the five students, Favour Benjamin aged 16, Micheal Kashamu (15), Edward Begue (16), Ansel Temile (14) and Kenneth Inyang (15)
The minors were also cleared of belonging to any unlawful society.