'Statues Loading' – Nigerians React As Okorocha Joins 2023 Presidential Race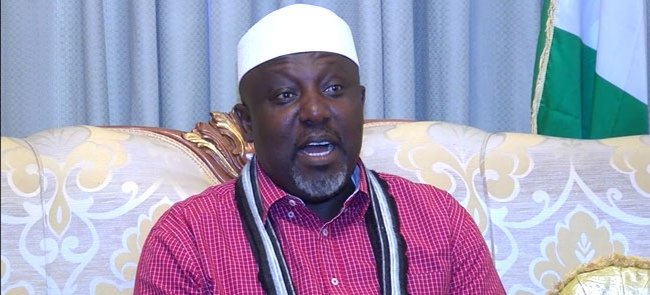 Several reactions have trailed the decision of former Imo State Governor and current Imo West Senator, Rochas Okorocha, to join the 2023 presidential race.
Naija News earlier reported that the controversial lawmaker on Wednesday openly declared his intention to succeed President Muhammadu Buhari in 2023.
Okorocha stated this in a letter read on Wednesday during plenary by Senate President Ahmad Lawan.
The former governor said he plans to contest the presidency on the platform of the All Progressives Congress (APC).
He added that he would officially declare his ambition for the 2023 presidency at a world press conference scheduled for Monday 31st January 2022.
Reacting to Okorocha's decision to join the 2023 presidential race, some Nigerians mocked the former governor for planning to become the next president, while his supporters applauded him for listening to their calls to run for the presidency.
See some of the reactions below:
@jombo_dominic wrote: "We're solidly behind him."
@Castledaniel2 wrote: "He is better than all APC aspirants. If u are wanna argue, pls do it with facts."
@chubby_jamal wrote: "Owelle, please focus on Imo state, the presidency isn't a chieftaincy tussle. You are declaring for president, which antecedents do you have to support your candidacy. While not focus on clearing your name which is being dragged by the EFCC and the Imo SG."
@JOSEPHAYENAJE8 wrote: "This guy should not take us for granted. This is a nation, not an individual investment or company. Time is coming they will all look for a place to hide. So help us, God."
@Amarachi_rich2 wrote: "Everyone in Nigeria will soon declare the intention to contest for presidency in 2023."
@egrego wrote: "Everywhere you read declaring for president, please is it President of the Federal Republic of Nigeria Flag of Nigeria? If it is Rochas go and sit down, as Governor you failed, we can't afford to have you just after an APC presidency. It just impossible for the fabric of this nation."
@BenEkekhorwrote: "When you were Governor of Imo State you built statues of your heroes all over Owerri. You are a nice person, Sir. From records available, I have my doubts if you are the kind of President Nigeria need at this critical time."
@brenokwaraji wrote: "This is probably the best year to be either APC or PDP chairman. Some aspirants want to deliberately waste money in the guise of buying forms. Examine your structure before wasting resources."
@BimboCharles wrote: "If you are in good relationship with your people in Southeast, you can try your luck or you are coming out on independent candidate..it is the turn of NDIGBO if truly NIGERIA is one nation."