Senate In Closed-door Session Over Electoral Act Amendment Bill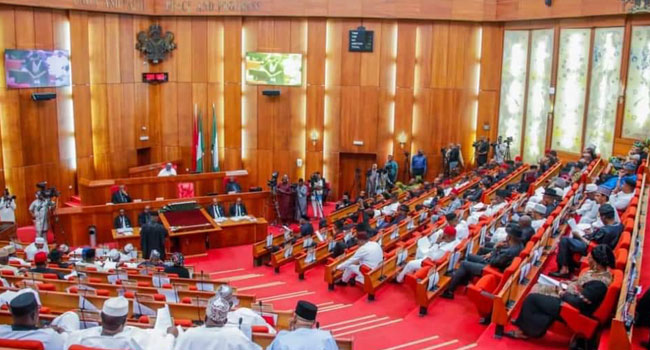 Members of the Nigerian Senate are currently in a closed-door session over the Electoral Act Amendment Bill.
Naija News reports that the lawmakers resumed plenary on Tuesday after their Christmas and New Year break and began the deliberation on the electoral bill and other national issues.
The Red Chamber dissolved into an executive session immediately after Senate President Ahmad Lawan took his seat at 10.46am.
Naija News recalls that President Buhari failed to sign the bill into law due to the compulsory use of direct primary to pick candidates.
In a letter sent to the National Assembly, Buhari said assenting to the bill may open up the electoral system to a series of litigations from party members and stakeholders.
He stated that the adoption of direct primaries violates the spirit of democracy and would fuel corruption as well as encourage the monetization of elections.
Buhari, therefore, said he declined assent to the bill in line with section 58 (1) of the 1999 constitution.
He had said: "The amendment as proposed is the violation of the underlying spirit of democracy, which is characterised by freedom of choices of which political party membership is a voluntary exercise of the constitutional right of freedom of association.
"The proposed amendment might also give rise to a plethora of litigations based on diverse grounds and issues of law, including but not limited to the fact that the proposed amendment could not work in retrospect, given that the existing constitution of the parties already registered with the Independent National Electoral Commission (INEC) permits direct, indirect and consensus primaries.
"I hereby signify to the national assembly that I am constrained to withhold assent to the bill in line with section 58 (1) of the 1999 constitution."