Nigerian Governors To Meet On Wednesday Over National Issues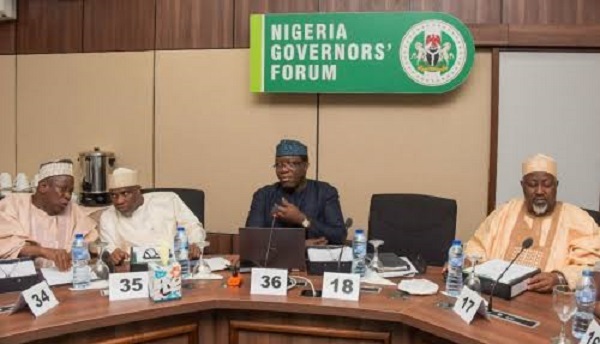 The Nigerian Governors Forum has disclosed plans to meet on Wednesday in Abuja to deliberate on rising insecurity and other challenges facing the country.
Director-General of the NGF, Asishana Okauru, made this known in a statement released on Sunday by the spokesman of the forum, Abdulrazaque Bello-Barkindo.
He stated that the Chairman of the forum and Governor of Ekiti State, Kayode Fayemi, will preside over the meeting scheduled to hold at the forum secretariat at 8:00 pm.
Bello-Barkindo added that Fayemi would address a press conference on the issues discussed by the governors at the end of the meeting.
The NGF spokesman disclosed that the meeting will be in-person, urging the 36 state governors to attend the crucial meeting.
He said governors will also receive briefings from the NGF's fiscal transparency, accountability and sustainability (SFTAS) team.
Meanwhile, Governor Fayemi has described his meeting with the National Leader of the All Progressives Congress (APC) as a "family meeting of minds".
Naija News reports that Fayemi had met with Tinubu after the former Lagos State governor declared his intention to succeed President Muhammadu Buhari in 2023.
Reports had claimed that the meeting was convened to discuss the presidential ambition of Tinubu and the upcoming Ekiti State governorship election.
Reacting in a statement on Saturday, the Chief Press Secretary to Governor Fayemi, Yinka Oyebode, said the meeting of his principal with Tinubu had nothing to do with the presidential ambition or otherwise of either of the two political leaders.
In the statement titled, 'Re: Tinubu-Fayemi meeting: The spin doctors got it wrong', Oyebode stated that Tinubu and Fayemi's relationship dates back to the dark years of military despotism.
According to the governor's aide, Fayemi did not surrender his undeclared presidential ambition to Tinubu.