Man Allegedly Forced 15-year-old Apprentice To Drink Maggot-infested Water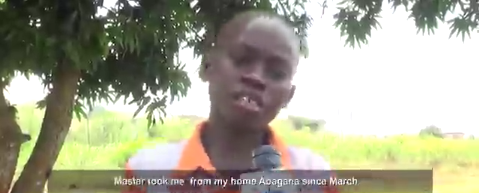 A 15-year-old boy, Chinedu Okonkwo has alleged that his boss subjected him to months of abuse in Festac Lagos.
In an interview with Anambra Broadcasting Service, ABS, the boy claimed that his boss, Wisdom Chukwudi Odera Dim, beat him, abused him and occasionally forced him to drink water filled with maggots.
He further revealed that the man threatened to cut off his manhood, murder him, dump his remains in the river and proceed to the village to murder his parents.
He said: "He said that my twin would be used to replace me after he must have killed me. He said the government would no do anything to him because he had a brother in the army."
The boy was finally rescued when one of the girls living with them who suffered similar abuse ran away and alerted some human rights activists of the situation.
Download NAIJA NEWS app: