Top Nigerian Newspaper Headlines For Today, Saturday, 8th January, 2022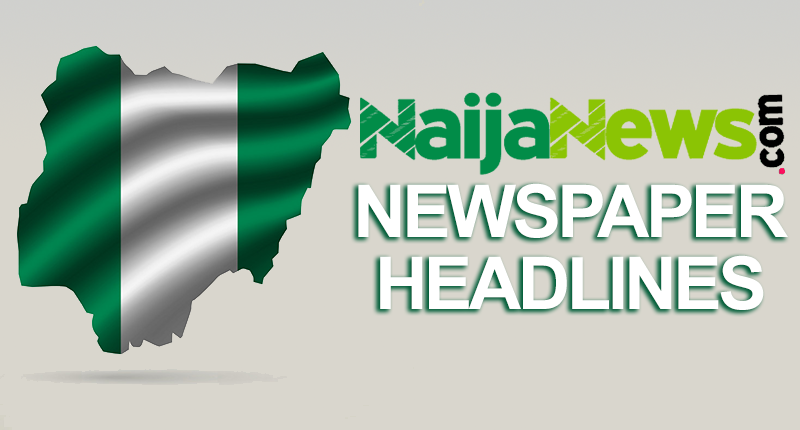 Good morning Nigeria, welcome to Naija News roundup of top newspaper headlines in Nigeria for today Saturday, 8th January 2022.
President Muhammadu Buhari's back-to-back media interviews this week took Nigerians by storm, dominated the trends, and threw up many talking points. This does not come as a surprise as Nigeria has in the last six years been saddled with a taciturn leader. Buhari prefers to speak to Nigerians through surrogates even when the people and the occasion demand that he communicates directly with Nigerians.
The situation was such that some prominent Nigerians had accused presidential spokespersons of embarking on a frolic of their own and using the President's name to further narrow interests. There was also the charge of a President who avoided local press but is quick to speak with the foreign media whenever he is outside the shores of Nigeria.
Presidential Spokesman, Garba Shehu has revealed that President Muhammadu Buhari was persuaded and pressured to become the Nigerian leader in 2015.
Shehu made this known in an interview with Channels Television on Friday while reacting to some comments made by the President in an interview on NTA on Thursday.
During the interview, the President had said that he was looking forward to finishing his tenure as age is telling on him.
The Indigenous People of Biafra (IPOB) has warned President Muhammadu Buhari against harassing Reverend Father Ejike Mbaka with the Department of State Service, DSS.
In a statement obtained by Naija News on Friday, the pro-Biafra group warned the secret police against intimidating Mbaka and other 'men of God' for speaking in favour of its detained leader, Mazi Nnamdi Kanu.
According to the outlawed group, the prayers of Mbaka has left the Buhari-led government in a confused state.
A poster has emerged online further fueling speculations that former President Goodluck Jonathan is interested in contesting the 2023 presidency.
The poster sighted by our correspondent was tagged "GEJ Is Coming Back" and according to details on it, the poster is sponsored by a group identified as the National Agenda For Goodluck Ebele Jonathan.
The campaign poster has a picture of Jonathan and signs off with a slogan that says "coalition for a better Nigeria 2023."
President Muhammadu Buhari has advised the new board of Nigerian National Petroleum Company (NNPC) Limited to carry out their duties with the highest ethical standards.
The Nigerian leader also admonished the board members to be transparent and be accountable in their dealings, while ensuring strict compliance with corporate governance principles.
President Buhari made this known on Thursday during the inauguration of the board, headed by Margret Chuba Okadigbo, at the Presidential Villa in Abuja.
The Senior Special Assitant to President Muhammadu Buhari on media and publicity, Garba Shehu has declared that his principal has performed incredibly in making the nation's power sector better.
He stated that more could have been done about power generation in Nigeria but the "reckless privatization" of the sector which it inherited from the government of former President Goodluck Jonathan has hampered it and stakeholders from executing some of their good intentions.
He also argued that the privatization of the power sector in 2013 by the previous administration was done for political reasons and not in the best interest of Nigerians.
The presidency has declared that Nigeria's leader, Muhammadu Buhari is not one that can be swayed by the false prophecies coming from some acclaimed prophets and clergies.
According to presidential spokesman, Femi Adesina, Buhari can't be cowed or deceived into doing anything he doesn't want to do by those who go about with fake prophecies and expect to be paid to avert such lies they prophesy.
Adesina made his submission in an article released on his verified Facebook page titled, 'PMB And The Futurologists' where he claimed President Buhari is different from late military President, Gen. Sani Abacha.
President Muhammadu Buhari has said that one way to fight corruption is for Nigerians not to live a flamboyant lifestyle.
Speaking in an interview with the NTA on Thursday, Buhari advised the citizens to live within their means and not desire to live an extravagant lifestyle.
Another way to fight corruption, as stated by Buhari, is for state governments to fund departments, ministries and agencies and make the local governments more effective.
The Nigerian Air Force (NAF) has assured Nigerians that the Super Tucano aircraft will only be used against terrorists in the Northern region of the country.
Acting Director, Defence Information of the NAF, Air Commodore Wap Maigida, gave the assurance in an interview with The PUNCH on Thursday.
Maigida assured residents in the North-West and North-Central that there would be no civilian casualties during the use of the fighter jets against bandits.
Ifeanyi Ejiofor, lawyer to the leader of the Indigenous People of Biafra (IPOB), Nnamdi Kanu, says his client is not bothered about President Muhammadu Buhari's decision not to release him.
Naija News reports that Ejiofor was reacting to an interview granted by Buhari on Channels Television on Wednesday night, saying that he would not interfere in any judicial process relating to the pro-Biafra agitator.
Buhari asked Nnamdi Kanu to defend himself in court for spreading false information about Nigeria when he was in the United Kingdom.
That's the top Nigerian newspaper headlines for today. Read more Nigerian news on Naija News. See you again tomorrow.
Download NAIJA NEWS app: