Kingmakers Unveil Balogun As Olubadan-elect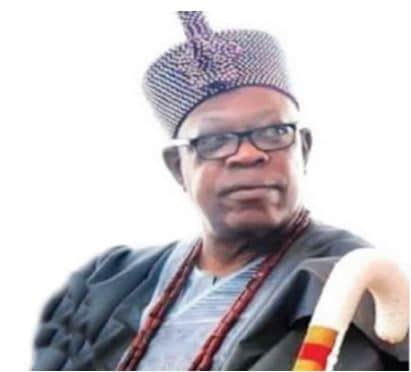 Dr Lekan Balogun has been endorsed as the next Olubadan of Ibadanland by ten of the 11 members of the Olubadan-in-Council.
The Osi Balogun of Ibadanland, High Chief Tajudeen Ajibola,  made the announcement at a briefing by the kingmakers on Wednesday, Naija News reports.
The Council also debunked rumors insinuating a legal tussle could scupper the succession to the Olubadan throne.
According to Ajibola, the kingmakers single-handledly chose Dr Balogun as the one next in line to ascend the throne of Olubadan according to tradition.
He also denied rumors  to the health and wellness of the new Olubadan-elect.
It would be recalled that Michael Lana, counsel to a former Governor of Oyo State, Rasheed Ladoja, opposed the plan to crown Senator Lekan Balogun as the next Olubadan of Ibadan.
Naija News reports that Senator Balogun is presently the Otun Olubadan and he is next in line to the throne and seen as the natural successor.
However, Lana has written a letter dated January 3 to Governor Seyi Makinde, asking him not to approve Balogun's appointment as the new Olubadan.
The former Attorney-General and Commissioner of Justice in the state advised the governor to reject the former Senator's name if selected by the Olubadan-In-Council.
Lana noted that installing Balogun as the new Olubadan will amount to the violation of the 1957 Olubadan Chieftaincy Declaration which is an "aberration and illegality".
He reminded Makinde that Balogun was one of the high chiefs who received a beaded crown as a king from former governor Abiola Ajimobi.
The former commissioner added that Ladoja challenged their coronation in court and won, but Balogun and the new kings challenged the judgment, which is still pending in court.
Lana stated that except Balogun withdraws his suit challenging the nullification of their elevation, he is not entitled to the throne of Olubadan.