Jumada Al-Awwal: Sultan Asks Muslims To Look Out For New Moon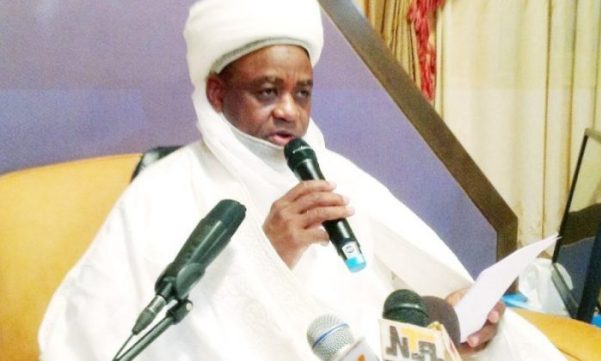 The Sultan of Sokoto, Sa'ad Abubakar III has asked Muslim faithfuls to look out for the new moon of Jumada al-Thani 1443 AH.
Naija News understands that Jumada al-Awwal, also known as Jumada al-Ula is the fifth month of the 12 lunar months in the Islamic calendar.
The month which spans through 29 or 30 days connotes the dry and parched land in Islam hence is also referred to as the dry months.
In a statement made available to newsmen on Sunday, January 2, the Sultan of Sokoto who doubles as the President-General of the Nigeria Supreme Council for Islamic Affairs (NSCIA), instructed Muslim worshippers to report the sighting of the new moon starting from Monday.
The statement signed by the Chairman, Advisory Committee on Religious Affairs, Sultanate Council, Sokoto, Prof. Sambo Junaidu, reads: "This is to inform the Muslim Ummah that Monday, January 3, 2022 which is equivalent to 29th day of Jumada al-Awwal 1443AH shall be the day to look out for the new moon of Jumada al-Thani 1443AH.
"Muslim are, therefore, requested to start looking for the new moon on Monday and report its sighting to the nearest district or village head for onward communication to the Sultan."
The monarch also prayed to Allah to assist the Muslim Ummah in the discharge of their religious duties.
Barely a month ago, the traditional ruler advised Nigerian politicians to stop politicising the issue of insecurity in the country.
The monarch and religious leader urged the Federal Government to immediately address insecurity in the country and curb activities of criminals disturbing the nation's peace and progress, Naija News reports.
He gave the advice while speaking at an event organized by the Global Peace Foundation, in collaboration with Vision Africa in Abuja.
According to Abubakar, political office holders should be circumspect and consider lives to be sacred.
He said, "As leaders, we must always look at one thing, let us serve humanity first. So, we must stop politicising insecurity.
"It's unfortunate that this is what we are seeing across the land. Parties are accusing one another of not doing enough to tackle insecurity. I think that is the major problem we have been facing in the country.
"I want to say there is hope in finding solutions to the numerous problems facing us, because I know all of us here believe and identify that we have problems.
"To know you have a problem is to have half of the solution. And the other half we are looking for, can come from this kind of gathering, if we are circumspect and talk to each other with honesty and sincerity as we discuss in efforts to bring peace and stability to our country.
"Peace is the most important aspect of our lives because without peace, you just can't do anything. All is not well with our country, and I think this forum is very important."
Download NAIJA NEWS app: