Ozekhome Reacts To Buhari's 100 Achievements In 2021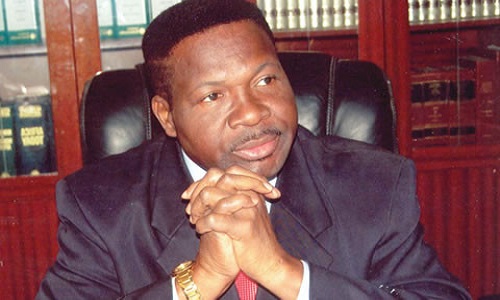 Senior Advocate of Nigeria (SAN), Mike Ozekhome has reacted to the long list of major achievements claimed by the Muhammadu Buhari administration.
Naija News had reported that the Minister of Information and Culture, Lai Mohammed, had said the Buhari administration has recorded huge progress and achievements in the year 2021 despite many economic and political challenges.
Mohammed made the submission while addressing a press conference on Thursday in Lagos State, the nation's commercial capital city.
He listed areas of security, economy, infrastructure, job creation, and others as part of achievements recorded by the current administration in the year 2021.
In an interview with Vanguard on Friday, Ozekhome said Buhari's performance claims are all fiction, asking the Buhari government to show Nigerians one of the achievements.
He stated that the All Progressives Congress (APC) led government has made Nigerians poorer than they were before 2015 and has performed woefully compared with the past administrations.
He said: "The performance claims must be in President Buhari's dream utopian world of fantasy, make-belief and 'Ali Baba's' tales-by-the-moonlight.
"It is certainly not the Nigeria I live and work in. There exist grinding poverty, abject penury, dismay, hunger, thirst, helplessness and hopelessness.
"Poverty has never been so grinding. Inflation has never been so high. Governance has never been so opaque. Corruption has never been so monumental.
"Insecurity has never been so ravaging. The economy has never been so parlous and recessionary. Innocent blood has never been so wantonly spilt.
"Nigerians are currently living in dire horrific circumstances of pains, pangs, sorrow, tears and blood. 2015 looked like an eldorado. And the President is saying he has performed?
"This is the surest proof that President Buhari's legendary disconnect with the people he presumably governs has reached unmanageable proportions."
Download NAIJA NEWS app: