Nigerian Newspapers Daily Front Pages Review | Thursday, 30 December, 2021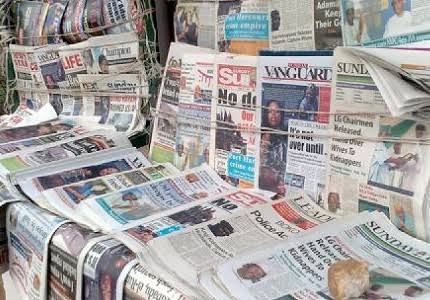 Naija News looks at the top happenings making headlines on the front pages of Nigeria's national newspapers today Thursday, December, 30th 2021.
The northern socio-political organisation, Arewa Consultative Forum, has disagreed with the Pan-Niger Delta Forum, the Ijaw National Congress and some civil rights groups over the ownership of crude oil in the Niger Delta, The PUNCH reports.
---
About 134.4 million Nigerians are currently without the National Identification Number (NIN) as the NIN-SIM linkage deadline ends tomorrow, The Guardian can report. As at October, the National Identity Management Commission (NIMC) revealed that 140 million Nigerians were yet to get NINs, with only 64.4 million unique identity numbers issued as at then.
---
According to This Day, at a projected 1.86 million barrels daily oil production in the country's 2021 budget, Nigeria recorded a huge deficit of almost 200 million barrels in the first 11 months of this year. This was largely due to the rising cases of crude oil theft, ageing infrastructure, challenges associated with host communities, under investment, and poor security in the waterways.
---
Fresh facts emerged on Wednesday on why the promotion and the extension of years of service of President Muhammadu Buhari's nephew, Abdulkarim Dauda, a police commissioner, were reversed, Daily Trust gathered.
---
Stakeholders in the agricul­tural sector have rated the industry badly in the outgo­ing year 2021, expressing concern for the future of the country in the coming year 2022. The stakeholders told Daily In­dependent that the expectation of farmers for 2021 was not met and that unless something serious was done, Nigerians should expect in­creased hunger in the coming year as things are only getting worse in the sector.
---
President Muhammadu Buhari has assured the Manufacturers Association of Nigeria (MAN) that the federal government will take appropriate measures to improve access to foreign exchange for importation of raw materials and machines that are not available locally, Nigerian Tribune says.
Thank you for reading, that all for today, see you again tomorrow for a review of Nigerian newspapers.
Download NAIJA NEWS app: