Fulfilled Or Not? Highlights Of Some 2021 Prophecies Released By Clergymen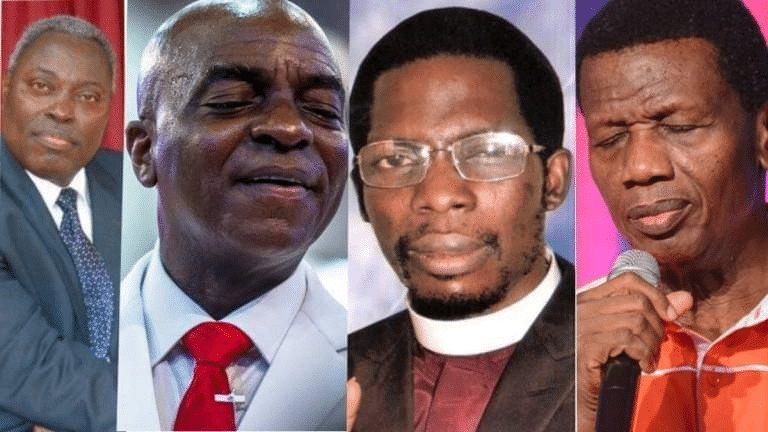 By Olugbenga Ige and Richard Joshua
According to Britannica, a prophecy is a divinely inspired revelation or what it is to happen in the future. This revelation is an inspired utterance of a prophet.
Some prophecies, predictions include the interpretation of dreams and the revelation of divine knowledge concerning a person or an event.
In Nigeria, prophets are treated with utmost respect due to the fact some people see them as God's messengers and mediators between God and the people. It is understood that most of the prophecies are made at the beginning of every month, year or before a major political event happens.
This year in Nigeria, some prominent clergymen made prophecies regarding prominent personalities, the COVID-19 pandemic in the country, while others predicted the outcome of some of the elections that took place in the country.
Naija News has deemed it fit to review the major prophecies made in the year 2021 in no particular order.
See some of the prohecies below:
Prophet T.B Joshua Releases Prophetic Message For 2021 On COVID-19
In early January this year, the founder of the Synagogue Church of All Nations (SCOAN), Prophet T.B Joshua, made some prophetic declarations concerning the COVID-19 pandemic in his prophetic messages for the year 2021.
Naija News reports that TB Joshua while addressing his followers virtually in his New Year message, described COVID-19 as an 'affliction'.
The renowned Prophet revealed that the pandemic has three stages. He stated that the second and third stages of the pandemic will be tougher than the first stage which the world is currently recovering from at that time.
VERDICT: Though the discovery is still ongoing and measures are being put in place to combat the dreaded disease, Naija News could admit that the new variant of the COVID-19 infection 'Omicron' has only affected a few countries yet and is more deadlier.
The new variant as tougher as it is seen has only affected a few nations and is observed to be a little lower in spread than the previous.
The World Health Organization had said in one of its reports earlier that the Omicron coronavirus variant is now present in 57 countries.
The new coronavirus variant omicron has so far been found in 57 countries according to the WHO.
The body, however, warned that the rate of hospitalization resulting from infection is likely to rise.
The WHO said it needed more data to evaluate the severity of the disease caused by the new variant.
"Even if the severity is equal or potentially even lower than for delta variant, it is expected that hospitalizations will increase if more people become infected and that there will be a time lag between an increase in the incidence of cases and an increase in the incidence of deaths," it said. 
2021 Prophecies: Osinbajo Will Replace Buhari – Ghanaian Pastor Predicts
In his 2021 New Year declaration, the founder of Ghana-based Prophetic Hill Chapel Prophet Nigel Gaisie, predicted that Nigeria's Vice President Yemi Osinbajo will replace Muhammadu Buhari as president.
Naija News reports that the Ghanaian cleric made the declaration while releasing his prophecy for the New Year during his church crossover service on the night of December 31st 2020.
He said: "Nigeria's Vice President Yemi Osinbajo will become president."
VERDICT: We can clearly state from this present time that Prophet Gaisie's prophecy did not come to pass as Osinbajo remains a loyal vice president to President Buhari.
Popular Catholic Priest Releases Powerful 2021 Prophecies, Says Buhari Should Resign
The founder of the Holy Ghost Adoration Ministry, Uke, and rector of the Blessed Iwene Tansi Pilgrimage Centre, Umudioke in Anambra State, Rev. Father Ebube Muonso, also in his year 2021 Prophecies spoke about the leadership of the nation and a fierce protest.
Naija News reports that the popular Catholic priest released the prophecy during a Mass at his Cathedral to usher in the New Year 2021.
He said God revealed to him what there is in stock for Nigerians and the world in 2021.
"Some are good and some are not good. But I pray that the spirit of God will take absolute control of negative events and postulations for the year 2021," he said.
He continued; "At the political front, I foresee the outcome of the November 2021 Anambra governorship election will shock many. Many are jostling for the governorship seat, but God has already given me the name of the person that will take over from Obiano. God has strengthened the person to take Anambra to the next level. The Holy Spirit revealed to me the fall of an empire. God showed me the man that will take Anambra to the next level, and his name also appeared."
Father Ebube Muonso said, "None of my prophecies failed. In 2015, when I was telling Nigerians that Buhari would win the presidential election, but that Nigerians would suffer, people didn't take it seriously. When I was telling our people that Hope Uzodinma, who took the fourth position during the Imo State governorship election, would eventually become governor, people did not understand it. I predicted Willie Obiano's victories.
"In the 2021 governorship election, the electorate is going to do conscience voting, not money voting. God has revealed the winner to me. It does not matter whether he is a Catholic or Pentecostal or Anglican. The important thing is that he is a good man. He is actually the person destined to take the mantle from Willie Obiano to continue where he stops."
Speaking on security, the Catholic priest expressed worries that the crime wave and corruption were increasing and charged the president and his vice to resign for their failure to secure Nigerian citizens.
He said, "The president of this country has failed the people. Insecurity has snowballed considerably in recent years. I can see another protest coming; this time, it is going to be something fiercer than EndSARS. Politicians have really failed Nigeria and its people because of their selfishness.
"If I were President Muhammadu Buhari, I would have resigned long ago. I am particularly worried that the vice president, Yemi Osinbajo, would allow himself to be soiled in a corrupt system," Father Ebube Muonso said.
He stressed that politicians have mortgaged the future of our youths.
"The Holy Ghost revealed to me that a youth president will change the face of this country. But the problem is that they were elbowed out," the Catholic priest added.
VERDICT: Though there were a series of protests in the year, there was none that was as bloody and disheartening as the #ENDSARS protest, Naija News understands.
On the Anambra 2021 Governorship election, it could be said that people's interest prevailed as predicted by Father Ebube Muonso, though the clergy did not mention categorically the name of the candidate to win the election as seen in his revelations.
While the priest had only suggested that President Buhari should resign his position, the Nigerian leader is still in power.
2021 Prophecies: 'Number Two Will Become Number One' – Suleman Reveals
The founder of the Omega Fire Ministries (OFM), Apostle Johnson Suleman, as usual, predicted also some events that will happen in Nigeria in his 2021 prophecies.
Naija News reports that Apostle Suleman in his prophecies stated that the country will not break up as anticipated and predicted by some persons.
He said: "North will lose power, number two will become number one", in what many people are interpreting to mean Vice President Yemi Osinbajo will replace President Muhammadu Buhari.
He revealed that God told him Nigeria will have peace and a new region at the helm of power.
VERDICT: Naija News could confirm that Nigeria indeed did not break up as predicted by Apostle Suleman.
However, a controversial part of Apostle Suleman's prophecy which stated that number two will become number one is what this news platform could not fathom.
Should the Christian clergy mean to say Osinbajo will take over leadership from Buhari, this has not happened. Though the number one and two citizens still have less than two years to end their second tenure.
On the shift of power to another region, Naija News understands that political parties and stakeholders from different regions are still in the puzzle and disagreement over which region to produce the next leader despite calls for a Southern Presidency.
2023: Prophet Arogun Reveals Who Will Succeed Buhari In Prophecy
The General Overseer of Light of the World International Church, Prophet Joshua Arogun, had also predicted the politician President Muhammadu Buhari will hand over to in 2023.
The cleric in his prophecy said President Buhari will be succeeded by a former governor from the South who was recently released from prison.
Arogun said: "I got a revelation about Nigeria's political dynamics in the next general election. I saw a man in prison (now released) and this man has been a former Governor from the South-East taking over from President Buhari. There is absolutely nothing one can do about someone's destiny, especially when sanctioned by God.
"Everything that happens in life is for a reason. I saw renewed alliances among the political class and across the political parties and I saw this country reuniting more than it has ever done before. God loves Nigeria so much. Nigeria is a big country, and is blessed with human and natural resources." 
Arogun who stated this during a church service described sharing the information he receives from God with the public as his primary duty.
VERDICT: As it stands, no verdict can be given on Arogun's prophecy until, after the 2023 general elections, Naija News reports.
Prophet Okikijesu Releases Fresh Prophecy, Says Trump May Be Imprisoned
The founder of the Christ Apostolic Miracle Ministry, Apostle Paul Okikijesu, has revealed that God told him that former United States President, Donald Trump, may be imprisoned.
In his prophecy to newsmen, Prophet Okikijesu said God wants Trump to resign from his position within seven days.
"The Lord has given this man seven days to pack his belongings from the White House. If he refuses to leave within seven days, did he believe/forget that I raised him for the downfall and upliftment of people?" Okikijesu revealed.
VERDICT: We can report that this prophecy did not come to pass. Former President Trump didn't resign from office but lost his re-election bid.
Adeboye Gives New Prophecy On Coronavirus, Reveals Those Who Will Die From It
The General Overseer of the Redeemed Christian Church of God, RCCG, Pastor Enoch Adeboye, has opened up on his revelation from God when he prayed about the coronavirus pandemic.
Adeboye revealed during the church's annual Holy Ghost Congress, that the virus would not harm Nigerians and those who would die are simply the ones whose time have come.
He maintained that the COVID-19 pandemic has been around for 2years but have not killed up to 4000 people in Nigeria, assuring his congregants to put their mind at ease that the virus would only harm them if it was their time to die.
VERDICT: We could say regarding this that Pastor Adeboye was diplomatic in his declaration about COVID-19 in Nigeria.
Naija News understands that a terrifying doom had been predicted on Nigeria and Africa at large concerning the coronavirus disease following its emergence in the black nation.
However, only a 'few' had died of the pandemic, contrary to world predictions of the virus.
Fresh Prophecy About Sunday Igboho, Nnamdi Kanu Emerges
A message allegedly from God has been delivered about the embattled leader of the Indigenous People of Biafra, IPOB, Nnamdi Kanu and Yoruba Nation activist, Sunday Igboho.
According to Apostle Paul Okikijesu of the Christ Apostolic Miracle Ministry, God assured him of his readiness to intervene in the case of the agitators.
The clergy explained further in a statement delivered to newsmen on Thursday, July 29 that the separatists must embark on three days of fasting and prayer before they can get divine intervention.
Okikijesu said: "Thus says the Lord of hosts: within the next 21 days, I will release Kanu and Sunday from their incarceration."
VERDICT: This news platform can report that the two separatists are still in detention five months after the prophecy was made.
Apostle Okikijesu Releases Prophecy On Defense Minister, IGP Usman Alkali Baba
Founder, Christ Apostle Miracle Ministry, Apostle Paul Okikijesu, has revealed that God has informed him of the removal of the Inspector General of Police, Usman Alkali Baba and the Minister of Defence, Retired General Bashir Salihi Magashi.
Okikijesu called on the Inspector General of Police to resist coercion that can ruin the police force.
Speaking on the Minister of Defence, Okikijesu advised Magashi not to listen to the advice of people to waste lives and should be prayerful.
VERDICT: Bashir Salihi Magashi was appointed Nigeria's Defence Minister in 2019 by the Muhammadu Buhari-led government and is still serving in the same position till this time.
This negates the claims of Apostle OkikiJesu in his 2021 prophecy, Naija News understands.
Also, Baba Usman is still overseeing the affairs of the Nigerian Police Force since his appointment as the Inspector-General of police.
Recall that the incumbent IGP was appointed by the President of Nigeria Muhammadu Buhari to replace Mohammed Adamu who retired from Nigeria Police Force in February 2021.
On this note Apostle OkikiJesu's prophecy could be termed failed.