Nigerian Newspapers Daily Front Pages Review | Thursday, 23 December, 2021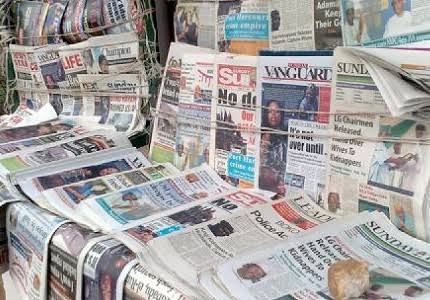 Naija News looks at the top happenings making headlines on the front pages of Nigeria's national newspapers today Thursday, December, 23rd 2021.
According to The PUNCH, the Senate on Wednesday failed to override the veto of the President, Major General Muhammadu Buhari (retd.), on the Electoral Act Amendment bill. The President of the Senate, Dr Ahmad Lawan, after an executive session, said the lawmakers had decided to take the President's rejection of the bill to their constituencies during Christmas and New Year holidays before deciding on the next line of action
---
Barely a day after the Nigeria Centre for Disease Control (NCDC) confirmed the country was now in the fourth wave of COVID-19 with over 500 per cent increase in infections across the country, Nigeria recorded 2,123 new COVID-19 infections on Tuesday, its highest ever daily infection since the outbreak of the virus in February 2020, Guardian says.
---
South-South leader, Chief Edwin Clark, yesterday, took a swipe at former President Olusegun Obasanjo, saying his disdain and insincerity for the people of Niger Delta has not in any way been reduced, Vanguard reports.
---
The threat by senators to override President Muhammadu Buhari's veto of the Electoral Act Bill 2021 may have collapsed. Following overnight lobbying by six governors, the federal lawmakers backed out of the plan, it was learnt yesterday, The Nation reports.
---
The moves by some senators to override President Muhammadu Buhari's veto on the Electoral Act Amendment Bill suffered a setback Wednesday as the lawmakers failed to make good their threat after enormous pressure from their state governors, according to Daily Trust.
---
The Nigerian Tribune leads with the the US Food and Drug Administration (FDA) on Wednesday authorising Pfizer's antiviral pill, Paxlovid, to treat Covid-19 in high-risk individuals age 12 and older who weigh at least 88 pounds
Thank you for reading, that all for today, see you again tomorrow for a review of Nigerian newspapers.
Download NAIJA NEWS app: