Nigerian Military Promotes 235 Officers To Generals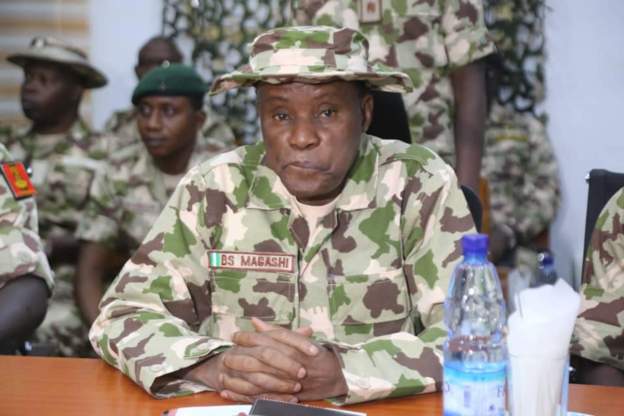 Two hundred and thirty-five officers of the Nigerian Armed Forces have been promoted to the next rank of military generals.
Naija News gathered that of the 235 officers, some got promotion as one-star generals while others became two-star generals.
The approval for their promotion was given on Tuesday night after a meeting of the Army Council, Navy council and the Air Council respectively held at the ship house Ministry of Defence in Abuja which was presided over by the Minister of Defence, Bashir Magashi.
A breakdown of the promotion shows that 36 officers of the Nigerian Army were promoted from Brigadier Generals to Major Generals while 76 Colonels were promoted to Brigadier Generals.
The Army Director of Defence Media Organization( DMO), Benard Onyeuko is among those freshly promoted as Major Generals.
On its part, the Nigerian Navy promoted 21 Commodores to Rear Admirals and 36 Captains to Commodores, while 30 NAF Air Commodores were promoted to Air Vice Marshals and 36 Group Captains lifted to Air Commodores.
In a related development, the Police Service Commission (PSC) on Tuesday approved the promotion of the Commissioner of Police, Lagos Command, Hakeem Odumosu, and five others to the tank of Assistant Inspector General of Police.
This was made known in a statement to newsmen by the PSC spokesperson, Ikechukwu Ani.
Naija News reports that two Assistant Inspectors-General (AIG) were also promoted to the rank of Deputy Inspectors-General (DIG).
A former Deputy Commissioner of Police (DCP) in-charge of the Lagos State Criminal Investigation Department (SCID) Yaba, DCP Yetunde Longe, alongside 16 others were promoted to the rank of CPs.
The PSC also promoted 24 Assistant Commissioners of Police (ACP) to the next rank of DCP; 49 Chief Superintendents of Police (CSP) to the rank of Assistant Commissioners.
The commission promoted 74 Superintendents of Police to CSPs and 866 Deputy Superintendents of Police (DSP) to Superintendents (SP) as well as 6, 177 other officers.
According to the PSC, the two AIG's promoted to DIGs are AIG Zaki Ahmed and AIG Johnson Babatunde Kokumo.