Your Book Meant To Sell Tinubu's Presidential Ambition, Bode George Tells Akande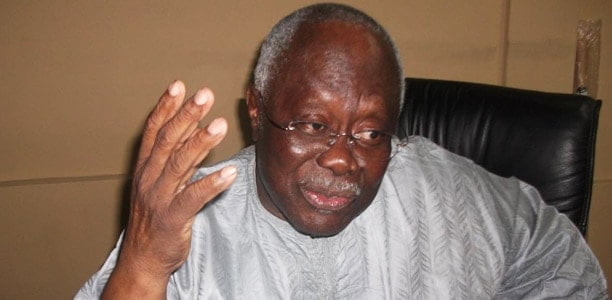 A chieftain of the Peoples Democratic Party (PDP), Chief Bode George, has berated a former Osun State Governor, Bisi Akande, over the content of his recently released autobiography, 'My Participations.'
In an interview on Arise News on Monday, George said Akande should have applied wisdom while writing his 559-page autobiography.
The former Deputy National Chairman of the PDP stated that some statements made by Akande in his book are not expected from someone of his age and status.
According to the PDP stalwart, some of the allegations in the book were designed to ridicule politicians who are opposed to Akande's views.
George said that is the reason those mentioned in the autobiography and other political stakeholders have started rejecting claims made in the book.
He added that the book was meant to propagate the presidential ambition of the National Leader of the All Progressives Congress (APC), Bola Tinubu.
He said: "All he said in the book, the only man he was praising and didn't condemn was Bola Tinubu. Do you think that is not political? Tinubu has thrown his hat into the ring that he wants to contest [for the presidency in 2023], and so he must bring everybody else down and start promoting him.
"Today is December 20, and in another month, we will be heading into the new year in another week. And that is the year of politics in this country. What an appropriate time to now open up a pandora box, demonising some leaders and elders and the only man you can see and praise is your brother [ Tinubu]. Why did he come and launch the book in Lagos — he has never had anything to do with Lagos — if not to promote Tinubu?"
Speaking further, George lambasted Akande for launching the book in Lagos, asking why the former APC chairman did not launch the autobiography in Osun state where he was a governor or in Ibadan where he was a former Secretary to the Government of Old Oyo State.
Recall that George had asked Akande to immediately withdraw his book from circulation and apologize to Yoruba elders dragged in the document.
Download NAIJA NEWS app: