Electoral Bill: National Assembly Too Weak To Veto Buhari – Wike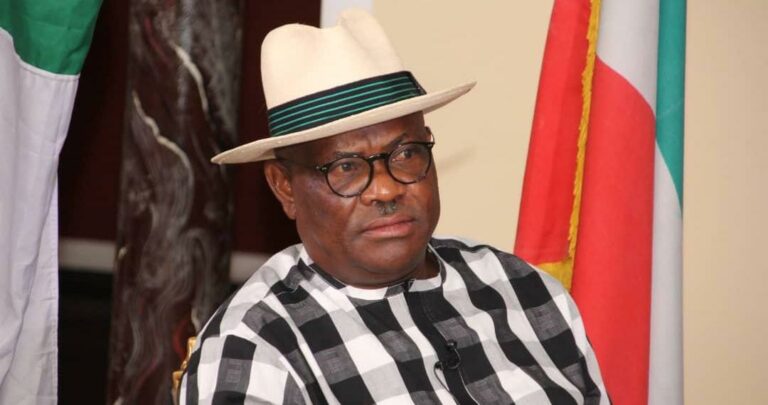 Governor Nyesom Wike of Rivers State says the National Assembly is too weak to override President Muhammadu Buhari if he fails to assent to the Electoral Act Amendment Bill.
Wike made this known on Monday during the flag-off of Chokocho-Igbodo Road in Etche Local Government Area of the state.
He argued that National Assembly members are not interested in protecting the interest of Nigerians and ensuring that elections are free and fair with the electronic transmission of election results.
The governor disclosed that President Buhari will decline assent to the bill in order to legal backing to electronic transmission of election results.
He alleged that the plan by the President to deny assent to the bill was part of the All Progressives Congress (APC) scheme to rig the 2023 general elections.
Wike stated that the APC members are afraid that if results are transmitted electronically, they will not survive the 2023 general elections.
He said: "Three weeks ago I told Nigerians that there is a conspiracy not to have a free, fair, transparent election in 2023 and that conspiracy was very clear. And I told Nigerians, Mr President will not sign the Electoral Act amendment bill.
"What APC resolved in the meeting they had was that their problem is not necessarily direct primaries, but the electronic transmission of result in 2023. If they allow that, obviously APC will lose the election in 2023 and they told themselves that the only way we can survive that is to include the direct primaries in the bill so that Mr President can use that as an excuse, that he will not sign the bill.
"Unfortunately, you don't have a National Assembly that has what it takes, that will stand for the people, that will say look we were elected by the people and we want to give the people the best.
"Nobody in the National Assembly, not even the leadership can have what it takes to say Mr President for the interest of Nigerians we are going to veto this your refusal."
Download NAIJA NEWS app: